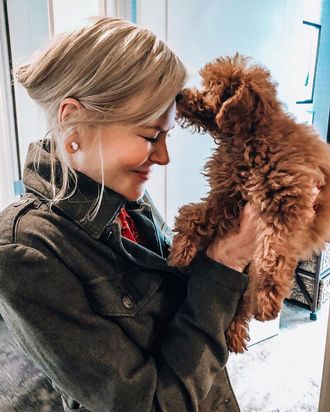 Nicole Kidman.
Photo: nicolekidman/Instagram
Social media can divide us. Fake news, etc. Parties you see on Instagram that you wish you'd been given the opportunity to turn down an invitation to. Facebook comments from your aunt's cousin about political conspiracy theories. Tweets. But as Mark Zuckerberg once said, "It's not that every single thing that happens on Facebook is gonna be good. This is humanity." Heh. Yes. Indeed, Mark. (We can extrapolate this comment to cover social media in general, though the specific social medium which we are going to speak about is, in fact, owned by Facebook [it is Instagram].)
But I have some exciting news about an outlier — something on social media that might bring us together, something we can look at and say, "That's nice," before immediately forgetting about it. It is a recent Instagram posting from Nicole Kidman, actress of "Nicole, kid, man" fame, and it has a little fluffy dog in it.
"My first puppy … actually my first dog. Been waiting my whole life for this! [dog emoji]," Kidman wrote. And good for her. It is truly so nice to have a dog. A sweet friend to have and imprison and take care of and love. A little lovey who will rest his head on your foot and breathe. A kind, soft guy with a little nose.
"So cute!" Isla Fisher wrote in a comment beneath the posting. "Omg," wrote Karen Fairchild of country music group Little Big Town. "♥️♥️♥️♥️♥️♥️♥️♥️♥️♥️♥️" wrote makeup artist Kay Montano. It's hard to disagree with their assessments.
Please join me in welcoming Nicole Kidman's first dog. She deserves the dog, and the dog deserves a life with someone who is very rich.