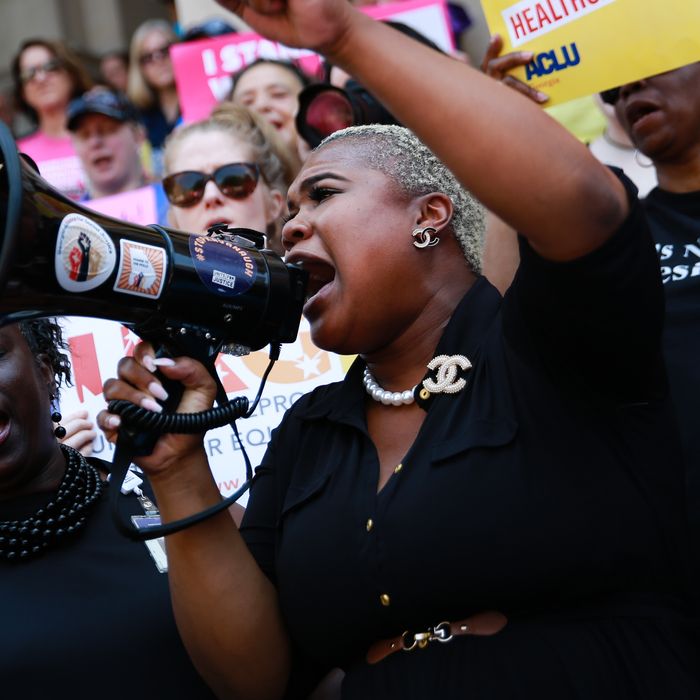 Photo: Elijah Nouvelage/Getty Images
Erica Thomas, a Democratic state representative for Georgia's 39th district, said she was at a grocery store with her daughter on July 19 when a white male customer verbally harassed her in line. Thomas tearfully described the incident in a Facebook Live video, saying the man was angry because she was in an express line at the Mableton Publix grocery store with too many items.
Thomas, who is nine-months pregnant, said she was in the line because she isn't able to stand up for too long. "This white man comes up to me and says, 'You lazy son of a bitch, you need to go back where you came from,'" Thomas said in the video, adding that the man also called her ignorant. She says she asked the man to leave her alone, too stunned to say anything else or even disclose her status as a state representative.
According to the New York Times, Eric Sparkes, the man who allegedly harassed Thomas, admitted that he had called her lazy but that had been the "worst" of his verbal attack. "This woman, Ms. Thomas, is playing the victim for political purposes because she is a state legislator," Sparkes told WSB-TV. "I'm a Democrat and will vote Democrat for the rest of my life, so call me whatever you want to believe. For her political purposes, make it black, white, brown, whatever. It's untrue."
Sparkes, who also said he was raised by a Cuban grandmother, accused Thomas of lying about him telling her to "go back" where she came from. "Did I say that? Is it on video?" Sparkes said, as Newsweek reports. "Are you serious? What did you say to me then," Thomas responded. Sparkes then admitted that he called Thomas a "lazy bitch." "That's the worst thing I said," he said. "Yeah, that makes you look better to say that," Thomas said.
"My child is right there, 'Mama, why would he call you that? Why would he do that?' I can't even explain to her why he has so much hate in his heart," Thomas said in her Facebook video. The man stopped harassing Thomas after a Publix employee asked him to leave.
"I'm tough, I'm a state rep, I fight for other people; it really hurt me so bad," Thomas said. She explained that it was important to share her story in order for people to "see the hate that is going on in this country." According to WSB-TV, Thomas has filed a police report and police are investigating the store's surveillance footage.
Thomas was also upset that the other customers in line didn't step in to help her, and thinks Publix took too long to get involved. "If you see people get discriminated against, please step in. Nobody stepped in for me until the last minute when the man was already out of the grocery store," Thomas said.
This story has been updated.