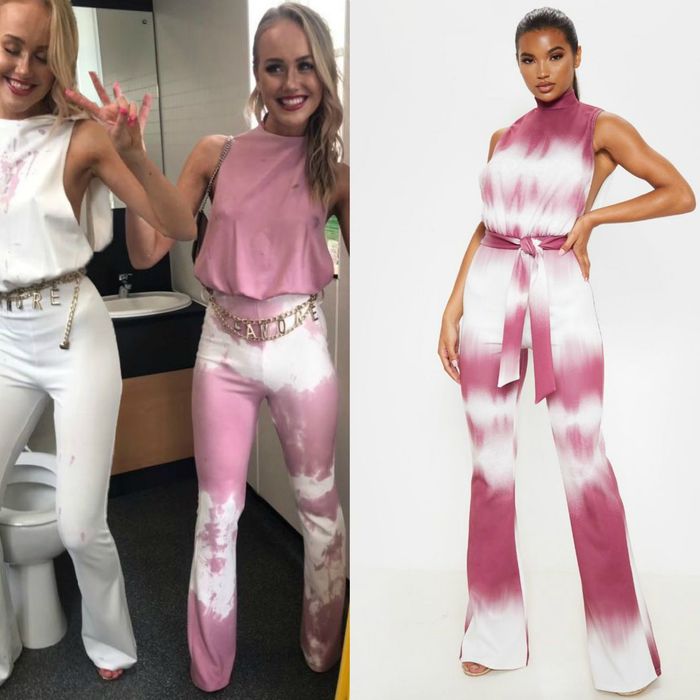 Photo: Pretty Little Thing
It's been a week since Eleanor Walton and her friends turned a wine stain into the style hack of the century, but the story of this tie-dye jumpsuit is far from over. After Walton's friend, Mia Williamson, joked on Twitter how the wine-stained jumpsuit would make a good addition to Pretty Little Thing's festival line, the clothing brand released a replica jumpsuit that pays homage to Walton's outfit. Fast fashion is fast!
The $45 jumpsuit, which is now available on the Pretty Little Thing website, is made from burgundy tie-dye scuba fabric and features a high-neck design and matching belt. The product listing also shows a photo of Walton wearing her jumpsuit, both when it was first stained and after Williamson and their other co-workers dyed it.
If anyone wanted to be this viral wine-stain moment for Halloween, now they don't have to waste any wine!
When the photo of the jumpsuit went viral, Pretty Little Thing responded on Twitter and later reached out to the two women. Walton tells the Cut that PLT had asked if they could make a replica jumpsuit using their photos. The suit was released today.
Walton is enjoying the turn of events resulting from her wine stain hijinks, and says "life has been pretty crazy" since. She and Williamson are also planning to visit Pretty Little Thing headquarters in Manchester to meet the team.
As far as to whether the women will receive any monetary compensation for their design, Walton is unsure, but would be happy if Pretty Little Thing ends up giving them vouchers for free merchandise. "That's what I spend all my money on anyway!" she says. Get it, girl.