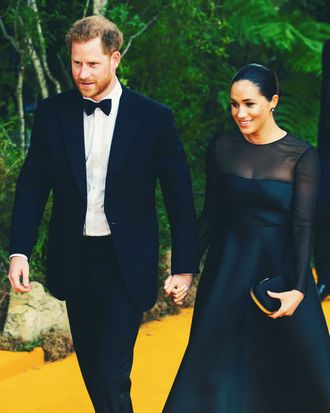 Photo: Samir Hussein/Samir Hussein/WireImage
In case you were curious how many siblings little Archie Harrison Mountbatten-Windsor will get to play with, Prince Harry has already given the answer: one. In a conversation with renowned anthropologist Jane Goodall for British Vogue, the Duke of Sussex said that he and wife Meghan Markle would have "two, maximum!" when discussing how many children they planned on having. The question came about when Harry and Goodall began talking about the environmental deterioration of the planet. Dark!
"We are the one species on this planet that seems to think that this place belongs to us, and only us," Harry said. "What we need to remind everybody is: these are things that are happening now. We are already living in it. We are the frog in the water and it's already been brought to the boil. Which is terrifying." Goodall pointed out just how terrifying it can be, especially for new parents. "It does make it different," Harry said. "I think, weirdly, because of the people that I've met and the places that I've been fortunate enough to go to, I've always had a connection and a love for nature." He added, "I view it differently now, without question. But I've always wanted to try and ensure that, even before having a child and hoping to have children."
While Harry clearly did not forgo the decision to have children altogether, his words add to the chorus of millennials who are choosing not to reproduce because of climate change. A 2018 report from the CDC showed that birth rates in the country had hit a 30-year low. Miley Cyrus has also talked about her hesitance to have children, telling Elle recently, "We're getting handed a piece-of-shit planet, and I refuse to hand that down to my child."
After Harry told Goodall his offspring would be a maximum of two, he said that he always thought the planet was "borrowed," and that as evolved as us humans are supposed to be, "we should be able to leave something better behind for the next generation." You would think so, Harry!