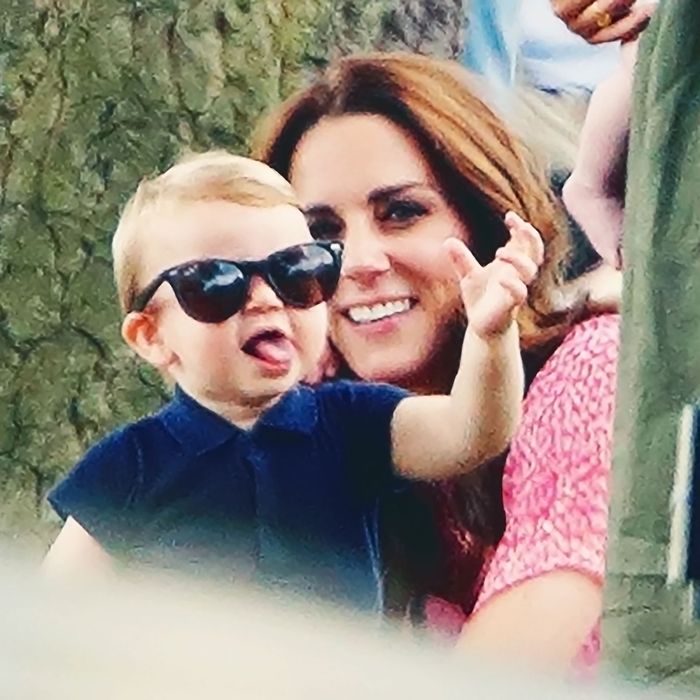 Prince Louis.
Photo: Max Mumby/Indigo/Getty Images
Babies, as a concept, are pretty damn cool, if you think about it. They're tiny humans! They don't know or care about what people think of them! They truly do whatever they want! But a select few are also cool in the chic sense. And, at just over a year old, one such baby has already proven that he's of the rare hip breed: Prince Louis.
Following approximately a year of being pretty elusive — the mark of a Cool Person™ — baby Louis, son of Kate Middleton and Prince William, stepped out on Wednesday to attend King Power Royal Charity Polo Day at Billingbear Polo Club, where he watched his dad and uncle Prince Harry play in the charity match. Except he didn't do too much watching. (Because he thought he's too cool for that? Hard to say.)
Instead, he stole his mom's dark sunglasses and stuck out his tongue, and decided to have a little fun himself. According to People, baby Louis showed off his wobbly walk that he's been working on for the past few months. He hung out with his baby cousin Archie, who spent his first public appearance in Meghan Markle's arms. And, looking at photos of the event, it appears that he didn't cry, even once. Even if he did, though, that wouldn't change Louis's standing: Feeling and expressing your emotions is objectively cool.
I wonder what cool things Louis was up to before he decided to embrace his public life!