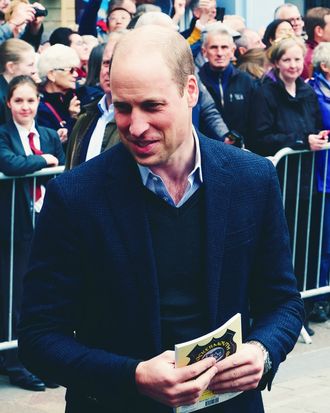 Prince William.
Photo: Ian Forsyth/Getty Images
Yesterday would have been Princess Diana's 58th birthday, and royals fans around the world marked the day with tributes on social media. A few even gathered around the gates of Kensington Palace to hold vigil all day — and in a great surprise to them, Prince William came outside to say thank you.
Per the Daily Mail, the Duke of Cambridge emerged from the palace just before 7 p.m. on Monday night and chatted with the crowd of a half dozen fans, some of whom had been standing outside since 5:30 a.m. for the occasion.
"William told me he knew we'd been coming here for years and thanked us for what we were doing for his mother," fan John Loughrey told the Mail. "He shook my hand three times, he has a really firm shake, and I felt a beautiful feeling go through my body. I think I'm still shaking now. I feel very emotional."
Another fan remarked, "He really is his mother's son."
Loughrey also asked William for an update on the statue of Diana that's set to be erected on the Kensington Palace grounds. The commission was announced in January 2017. "It has been twenty years since our mother's death and the time is right to recognise her positive impact in the UK and around the world with a permanent statue," William and Prince Harry said in a statement at the time. "We hope the statue will help all those who visit Kensington Palace to reflect on her life and her legacy."
William "revealed" the future location of the memorial by pointing out a spot in the garden to the fans, noting, "Soon, very soon. We just want to make sure it is right. It's important to get it right."
After about seven minutes of shaking hands and speaking to the fans, a crowd began to gather, and so William and his small security detail headed back inside.