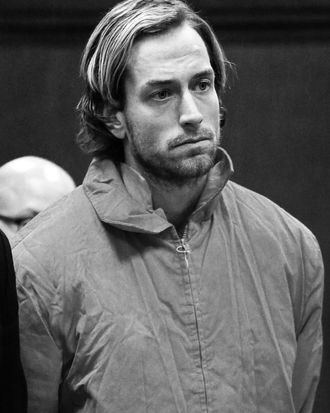 Thomas Gilbert Jr.
Photo: Jefferson Siegel/NY Daily News via Getty Images
When wealthy hedge-fund founder Thomas Gilbert Sr. was found dead in his Manhattan apartment in 2015, the No. 1 suspect was his Ivy League–educated son, Thomas Gilbert Jr. Authorities believed Gilbert Jr., who'd graduated from Princeton in 2009, was enraged over his parents' decision to reduce his $1,000 weekly allowance, and at the end of an angry dispute, killed his father. In May 2019, Gilbert Jr. was found guilty of second-degree murder, the New York Times reports. Most recently, on September 27, a state judge sentenced him to life in prison.
Below, here's everything we know about the case.
Did Gilbert Jr. seriously murder his father over money?
On May 29, Gilbert Jr.'s mother, Shelly Gilbert, testified that she and her husband had tried for years to convince him to seek a psychiatric help, but without success. Then one day, she and her husband decided upon a new tactic: to cut Gilbert Jr.'s allowance by a couple hundred dollars in an attempt to force him to take care of his mental health. This, prosecutors say, led to the killing.
"The defendant rejected hard work, instead, preferring an easy life handed to him on a silver platter," assistant district attorney Craig Ortner said in a closing argument, per NJ.com.
Did his attorneys try to make an insanity defense?
For years, Gilbert Jr.'s legal team attempted to argue that their client wasn't fit to stand trial, leading to speculation that the lawyers might attempt to claim insanity. Following multiple mental-health evaluations, a judge ultimately deemed that Gilbert was mentally fit.
In a court appearance on May 29, Gilbert Jr.'s lawyer Arnold Levine asked the judge to stop the trial so that Gilbert Jr. could undergo yet another mental-health evaluation. "His objections have no basis in law," he said. "He is affirmatively undermining and sabotaging my ability to defend him."
Justice Melissa Jackson, however, was not convinced. In court, she scolded Gilbert Jr. for being "disruptive to the jury," and denied Levine's request. Speaking of his competence, she responded to Levine, "Your client perfectly understands."
And he was convicted?
On June 28, Gilbert was convicted of second-degree murder and two counts of criminal possession of a weapon in the second degree, per a press release from Manhattan District Attorney Cyrus R. Vance's office.
"A brilliant businessman, passionate tennis player, and beloved family man, Thomas Gilbert, Sr. meant a great deal to all who knew him," said District Attorney Vance. "But in spite of all his love and generosity, this defendant shot his father at close range in his own apartment in an unconscionable and brutal crime. I thank my office's prosecutors for their years of dedication to this case and for ensuring a just outcome."
On September 27, ignoring Gilbert Jr.'s mother's pleas to send her son to a psychiatric facility, Jackson sentenced him to life in prison, with a possibility of parole after 30 years, the New York Times reports.
"You knew exactly what you were doing," the judge told Gilbert Jr. "You were not insane at the time you killed your father. You were not insane then. You are not insane now."
This post has been updated.