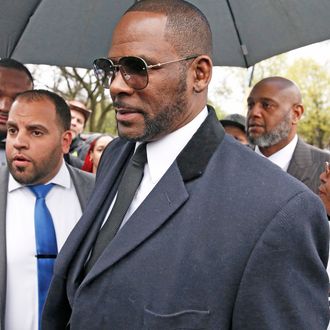 Singer R. Kelly.
Photo: Nuccio DiNuzzo/Getty Images
Following his interview with Gayle King on CBS This Morning on Monday, R. Kelly's crisis manager Darrell Johnson issued an announcement saying he is leaving his position in the singer's camp. "I step down as crisis manager for personal reasons. Mr. Kelly is in good hands with Mr. Greenberg," he told CBS News, referring to the singer's lawyer Steve Greenberg. While Johnson cites unspecified personal reasons for his exit, his CTM interview found him attempting to defend Kelly against the singer's recent charges while also seemingly asserting that he wouldn't risk leaving his own daughter alone with him.
"I would not leave my daughter with anyone that's accused of being a pedophile. I would not," he told King when asked if he would hypothetically allow his own 20-year-old daughter near the singer, whom Johnson describes as a "normal person" who will soon "have his day in court." When King pushed back, pointing out the contradiction in his statement, Johnson reiterated, "I wouldn't leave my daughter with anyone — I'm going to say it again — that's accused of being a pedophile." R. Kelly has repeatedly denied all of the sexual-abuse and sexual-misconduct allegations against him, perhaps most famously in his own emotional interview with King back in March.