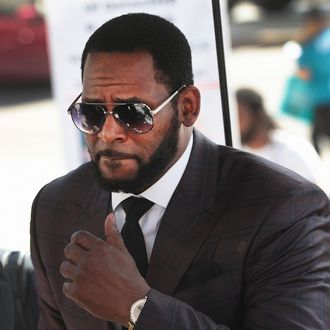 Photo: Scott Olson/Getty Images
R. Kelly pleaded not guilty to new federal charges on Tuesday but was ordered held without bail, according to the Chicago Sun-Times. Kelly is facing 13 counts in Chicago surrounding child pornography, enticing a minor, and obstruction of justice. He is accused of using his fame and wealth to avoid prosecution a decade ago, when he was first tried on child-pornography charges. The new indictment alleges that Kelly and his longtime manager, Derrel McDavid, had intimidated the victim and her family into lying to the court.
Federal prosecutors also charged Kelly with five counts in Brooklyn, bringing the total to 18 federal charges for alleged crimes against 10 victims. He faces a federal racketeering charge, as well as four counts related to his alleged "interstate transportation of a victim to New York to engage in illegal sexual activity and his exposure of her to an infectious venereal disease without her knowledge" as part of the Mann Act, which prohibits moving people across state lines for sex trafficking.
These federal charges are in addition to several state charges against Kelly in New York, Georgia, and Illinois.