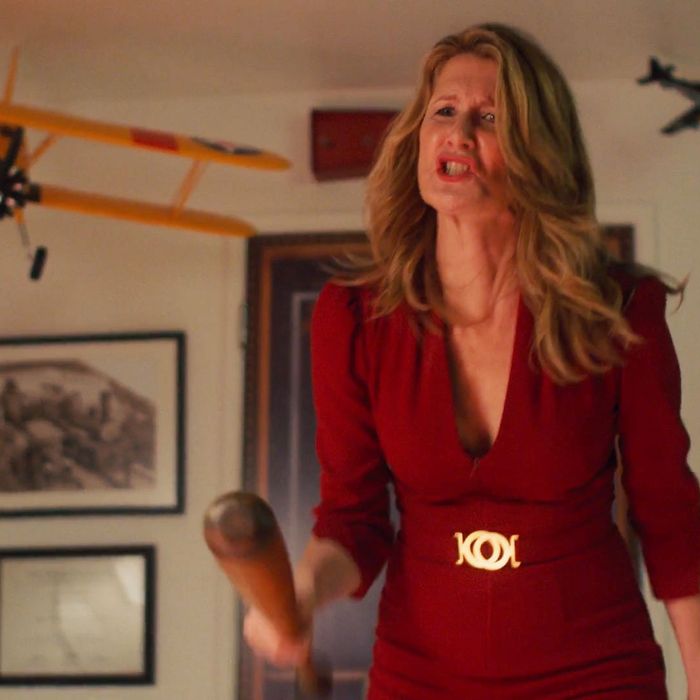 There were a lot of noteworthy moments from season two of Big Little Lies — Mary Louise's perfect insults, Shailene Woodley's bangs, and Celeste's bravery in the aftermath of her husband's death. But by far, the most enjoyable parts of this season came in the form of Renata Klein's meltdowns.
When the show first started, Renata (Laura Dern) was framed as an unfeeling bully. This past season, though, she was cast in a much more sympathetic light, becoming someone who took down bullies herself, begging her daughter Amabella to call out her own tormentor at school, and standing up to Mary Louise (Meryl Streep) whenever she got the chance. And though she remained a diva and ferocious helicopter mom, lashing out at doctors, school administrators, and other innocent bystanders in early episodes, she also provided some of the most satisfying moments this season — especially whenever she directed her anger at her pretentious nerd of a husband, Gordon.
In episode two, Renata finds out that Gordon has lost all of their money through securities fraud (he wanted a private plane, which ruins the climate, which little Amabella is very anxious about!), she grits her teeth and hisses into a prison phone what maybe was the season's most iconic line —"I WILL NOT NOT BE RICH"— before storming out. From there on out, her anger with Gordon only increases with each episode, and usually is a highlight.
In the second episode, she picks him up from jail in her Tesla, and emphasizes that it's her car and that he has lost her money. When Gordon seems unapologetic at his mistake, she drops him on the side of the highway (though she does, regrettably, go back and pick him up).
Gordon's uselessness becomes even more apparent in episode two, when she finds out he has been cheating with their beloved nanny in the midst of their bankruptcy hearing (when she discovers Gordon had tried to pay her off for $150,000). Renata swallows her pride in public, but boils over on the car ride home, where she force-feeds Gordon a napkin and tells him: "Shut the fuck up for the rest of your fucked up fucking life." Truly terrifying, but it's what he deserves!
In the finale episode, Renata takes a baseball bat to Gordon's train sets, which he has just sold to a friend. Her destruction will cost them, but Renata is past the point of caring about money. She realizes she is married to a selfish idiot and loses control.
Big Little Lies shows us women who suffer, and most do so silently. Bonnie only admits she doesn't love Nathan in the season finale. Celeste endures Perry's abuse up until his death. Madeline lets guilt eat her up inside, and Jane can't open up about the trauma she's suffered. Renata, conversely, lets her husband know he is good for nothing, and never goes down without an immediate fight. It's beautiful and it's loud, and it provides some very necessary cathartic relief in a season filled with shitty husbands.