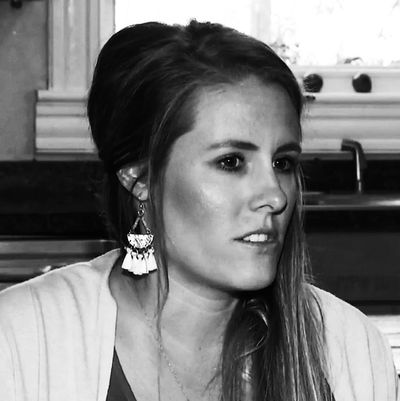 Renee Bach.
Photo: WSLS/Youtube
In what appears to be a story of white-savior complex turned deadly, a woman named Renee Bach moved to Uganda about 10 years ago and launched an organization that focused on treating malnourished children. According to a lawsuit filed against her, though, Bach wasn't the medical practitioner she claimed to be — a misrepresentation that lead to the death of "hundreds of children," ABC News reports. Bach, for her part, has denied that she ever claimed to be a medically-licensed doctor, and that any death that occurred at the facility was "normal as a result of severe acute malnutrition at advanced stages or underlying medical conditions." Many more familiar with Bach's organization, however, say otherwise.
Below, here's everything we know about the case.
Why did Renee Bach go to Uganda in the first place?
In September 2007, when Bach was just 18 years old, she left Bedford, Virginia, for Uganda, where she spent the next 10 months on a mission trip, working with babies. "I had never really heard of Uganda before or much about it," she told The News & Advance in a glowing 2017 profile. "I didn't know a lot about it initially and I didn't know anyone who had been there before, but just kind of took a leap of faith and felt like that's where the Lord was calling me to go."
When she returned home next year, in the middle of the summer, she wasn't sure she'd ever go back to Uganda — she "didn't want to just go back and piddle around," she told The News & Advance. By the end of the summer, though, she started to feel like she "was supposed to return." So, in 2009, she decided to make the move and start her own company: Serving His Children.
What is Serving His Children?
According to the organization's website, Serving His Children is a "God-breathed" non-profit that Bach initially started to provide free meals to families in need of nourishment. Later on, though, the organization turned its focus toward malnourished children in particular, offering free treatment for those it identified as suffering.
According to ABC News, the organization works with local doctors and nurses. But according to a lawsuit filed earlier this year, Bach, too, claimed to be a doctor despite having no medical training — something that the suit says resulted in the deaths of "hundreds of children."
What is Bach accused of?
In March, the advocacy group Women's Probono Initiative filed a lawsuit against Bach and her organization on behalf of two mothers who say that their children died as a result of Bach's treatments; per ABC News, the women further claim that Bach misrepresented herself as a medical official, something they only discovered was not the case after their children died.
The first mother, Zubeda Gimbo, said in an affidavit that, in 2013, someone from Serving His Children took her 3-year-old malnourished son to the organization's facility in the Jinja district; three days later, she says she received a call notifying her that he had died. That same day, the woman who took Gimbo's son allegedly returned the boy's body to the family, and gave them 50,000 Ugandan shillings (approximately $13.50).
The second mother, Annet Kakai, tells a similar story: that in July 2018, an employee for Serving His Children convinced Kakai to let them take her 1-year-old son to the organization's facility. Once there, she says a woman (who she later identified as Bach) took her son into a room for an hour; then, at Serving His Children's command, she brought her son back to the facility the next day. Days later, though, after parting ways with Serving His Children, Kakai claims that her son became weak and died, even after she sought out hospital supervision. In her affidavit, Kaki claims that she's convinced that Serving His Children "did something to [her] child that led to his death."
The two mothers aren't the only people who have come forward with claims about Serving His Children's disturbing influence — some of Bach's former employees have, too. Semei Jolley Kyebanakola, who used to work as an agriculturalist for the organization, said in an affidavit that Bach encouraged mothers to bring their children to her organization in lieu of a children's hospital; Charles Olweny, who worked as a field program manager, said in an affidavit that he saw Bach "take blood, offer diagnoses, administer drugs through IVs put on by herself and write prescriptions." He also accused the organization of having "high death rates."
"I saw several children dying at the facilities," he continued. "On average, I would drive at least seven to 10 dead bodies of children back to their villages each week."
Furthermore, another woman who once volunteered at Serving His Children said in an affidavit that when she asked Bach "what she based her treatments on, [Bach] stated she relied heavily on the book, Where There is No Doctor, as well as her 'gut feelings.'
The Women's Probono Initiative is seeking for Bach to be held accountable for her actions, as well as monetary damages for the two mothers.
"There are procedural and regulatory mechanisms that ought to be followed when establishing a medical facility in Uganda," Beatrice Kayaga, an officer at the Women's Probono Initiative, said in a press release, per The Root. "It is unacceptable, narcissistic behavior, for anyone, black or white, rich or poor, missionary or angel to pass off as a 'medical practitioner' when they are not."
How has Bach responded?
In an affidavit filed in March, Bach claimed that she "never represented [herself] or passed off as a medical professional," insisting that she "never put on a clinical coat." In short, she has vehemently denied all claims against her, and even went so far as to claim that Serving His Children never even treated Kakai's child. (In response to Gimbo's son's death, a head nurse for the organization said in an affidavit that the child suffered from "acute malnutrition associated with severe malaria," but was "given the best care possible." Per court documents obtained by ABC News, Bach says she was out of the country while Gimbo's son received treatment.)
Bach also, in a statement to ABC News, denied Olweny's claims as "completely false," arguing that he harbors hostility against her and the organization for laying him off.
"We did the very best with what we were handed," she said of her organization. "Sometimes what we were handed was a really rough situation."
What happens next?
While the case was originally scheduled to be heard in March, it has been postponed to January 2020. In the meantime, Bach has returned to the United States, where she is attempting to raise money for Serving His Children; she has, however, stepped down from her position.