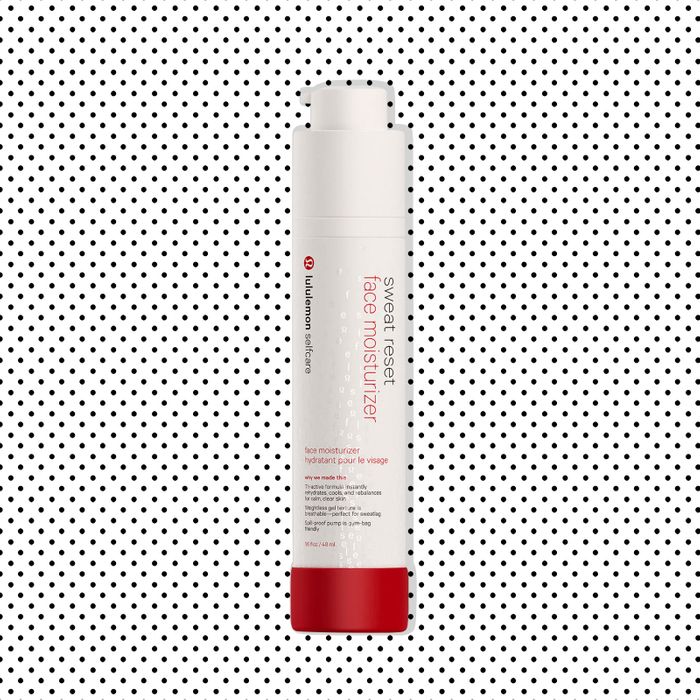 Photo: Courtesy of the Retailer
Nature gave us a perfect week for trying out a moisturizer meant for overheated faces. Lululemon's new moisturizer, the Sweat Reset, is a light gel that aims to "let your skin breathe post-sweat." (It's part of the brand's new self-care beauty collection.) Testing conditions were optimal, as every day in New York this week felt like being trapped in a greenhouse. Here's what five perspiring women thought of it.
Madeleine Aggeler, Staff Writer
It is, if I had to guess, 500 degrees outside in New York City, and I am constantly sopping wet with perspiration. I know that's a sexy image, but let's move on. My favorite thing about the moisturizer is the packaging. The top spins to lock and unlock, and does so securely enough that I could keep it in my bag without worrying it would explode all over my stuff.
The gel itself is light, and feels like it actually gets absorbed into my skin instead of just sitting heavily on top of it. The smell was a little overpowering for me. As for its "sweat reset" capabilities, I didn't notice much of a difference — I sweat when I walked into the oven that is summer in the city, and I stopped sweating when I entered my climate-controlled office. Regardless, I liked it, and it's a good everyday moisturizer.
Lee Musho, Intern
After getting sweaty, the last thing I want to do is put anything on my face. I'll wash it, but mostly I'll just let it be. This moisturizer goes on a little thick and shiny, but after a few minutes it soaks in and leaves your skin dry and soft without residue.
The smell is nice, a cross between lemons and something a little more floral, but unlike Maddie, I thought the packaging was a little clunky. What if I wanted to travel with it? It doesn't exactly fit easily into a makeup bag. It's definitely decent but it hasn't replaced my favorite, everyday moisturizer (The Body Shop's moisturizing gel).
Diana Tsui, Senior Market Editor
In order to test out how this moisturizer would hold up against sweat, I dutifully smeared it on over sunscreen during a week when I was dog-sitting and had to walk the pup for miles at a time daily. I've never had eye irritation from my usual moisturizer/sunscreen combination before, but this one was hit-or-miss — some days it would be fine, and other days, I would tear up. The consistency also took some getting used to. It felt as if there was silicone in it, although I didn't see it in the ingredient list. It moisturized my face, but I could feel it sitting on my skin. Unfortunately I'm not sold on this product, but I would still buy the dry shampoo by the case.
Izzy Grinspan, Senior Editor
I thought this moisturizer was fine? I'm a fan of anything with a gel texture, and this one is pleasantly cooling thanks to the menthyl. It has a faint fruity smell (although I agree with the Sephora reviewer who said it gets a little fishy when it dries.) I used it regularly for three weeks and in that time developed one unexpected pimple, but it's hard to say whether Lululemon is to blame for that. I'll probably keep using it, but I don't know if I'll replace it when it runs out.
Kathleen Hou, Beauty Director
Creamy moisturizers are banned from my beauty routine from May through September because I have a weird phobia of water and dairy mixing. I can't even look at yogurt water without shivering. Somehow, this is tangentially related to my feelings about very rich lotions in the summer. Picturing sweat co-mingling with a cream on my face gives me the heebie jeebies. Gels are where it's at.
The Sweat Reset has a nice gel-like texture, which does feel a little silicon-y, like Diana mentioned. I'm not upset at its slippy feel, though; it feels like it clings to the skin better without suffocating it. This is easily spreadable and feels a little cooling and calming, which I like. It also plays nicely under makeup and doesn't pill. I'm not sure if it did much to help tame workout redness, but it did make my face feel less like it was on fire after cardio class.
If you buy something through our links, New York may earn an affiliate commission.