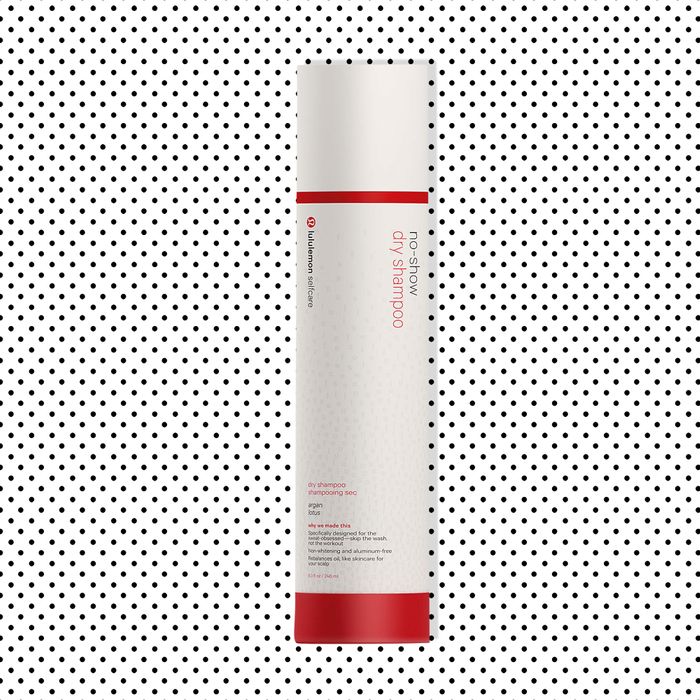 Photo: Courtesy of the Retailer
Is it any surprise that most dry shampoos don't work? With an oxymoron of a name, they're basically set up to fail. Too many dry shampoos make your hair look like an old funnel cake at a state fair — crispy, dried out, and lightly coated in weird white powder.
Lululemon hopes to break the curse. The brand just released a few "self care" products including a dry shampoo (and a sweatproof moisturizer that we'll be testing next week). Here's what five Cut staffers thought of the allegedly "no show" hair product.
Izzy Grinspan, Senior Editor
Things I did over Fourth of July weekend: ran three miles on a treadmill in an under-ventilated gym. Ran three miles on the boardwalk on a 90-degree day. Swam in the ocean. Grilled chicken. Watched, mildly horrified, as my husband and 6-year-old set off smoke bombs. Took a shower while holding a squirming, sand-covered toddler.
Things I did not do: Properly wash my hair. And yet by the end of this sweaty, salty, smoky long weekend, it looked amazing, to which I credit Lululemon. My gold standard for dry shampoo is Living Proof since it really soaks up oil, but I think Lulu is giving it a run for its money. The Lululemon version is milder in scent and leaves behind less white residue, but still neutralized all the dirt (and smoke and chicken smell and toddler finger grease) that had made it into my hair. It also gave me good volume, without weighing my hair down or making it look matted. Two thumbs up.
Lee Musho, Intern
My hair normally looks best a day or two after showering, but sometimes I miscalculate. In my experience, dry shampoo has always sprayed white into my brown hair and stayed there, leaving it straw-like yet greasy at the same time. But Lululemon's dry shampoo sprays on clear. This may not be news to other people, but I haven't yet used a clear dry shampoo, which alone makes this a winner. On top of that, after spraying, my hair feels softer than before. I even used it this morning when I didn't necessarily need to, just because I like the way it makes my hair feel. I am floored.
Diana Tsui, Senior Market Editor
My platinum-blonde dye job might look healthy, but it's still pretty fragile. Because I want to keep the color, I do everything my stylist tells me, including washing my hair no more than twice a week. Usually by day three, I'll notice a bit of grease buildup plus slightly flatter roots. Dry shampoo has been a lifesaver, but they're not all created equal — sometimes they clump, creating a gross paste-like texture that makes me feel even dirtier than before.
This Lululemon one pleasantly surprised me. The floral scent is nice and fresh, while the mist is fine enough to blend in perfectly with my hair. The real clincher is that it made my roots feel cleaner and held me over until day five. If your hair feels gross, your body also feels gross, no matter how many times you shower. This was especially true during a hot and humid week where I felt like throwing myself in the bathtub every time I came back from outside. A quick rinse and a few sprays of this stuff, and I was good to go.
Kathleen Hou, Beauty Director
I am the owner of some new bangs. Our life together is pretty great, even though the timing hasn't been ideal. My forehead looks less naked, but Russian-banya-like subway platforms and unpredictable humidity means that there is a 75 percent chance my bangs will be plastered to my sweaty third eye by the end of the day. It also means that I've had to wash my hair more often.
Dry shampoo is a beauty gift to the lazy, but it often comes at a cost, usually in the form of grittiness and unblendable white patches. But maybe this one is actually perfect? It seems rather simple, but it goes on clear! It smells nice! And it actually makes my hair feel clean! (It also doesn't need to be brushed out or blended.) I was really impressed by how well it worked at de-gritting both the back of my head and my more sparse, delicate bangs. In both cases, my hair didn't feel weighed down, but actually better — lighter, smoother, and softer. It works really well, and I'm excited to recommend it to all my similarly lazy friends.
Erica Smith, Beauty Writer
I haven't used a dry shampoo since I started wearing my hair natural. My hair's very curly and always thirsty, so it absorbs any extra oiliness all on its own. I just removed a protective style, however, and figured my scalp could use some "balancing," as this dry shampoo claims to produce over time.
My overall reaction to this product can be described as "relieved" because it skipped over all the annoying things about a lot of dry shampoos. It wasn't at all detectable on my dark hair (even before rubbing it in), it doesn't smell as powdery as a lot of other formulas, it comes in a massive bottle, and it didn't leave my hair feeling matte; if anything, it felt slightly softer. I still don't see a traditional dry shampoo in my future, but if I did, I'd have no hesitation picking this one.
If you buy something through our links, New York may earn an affiliate commission.