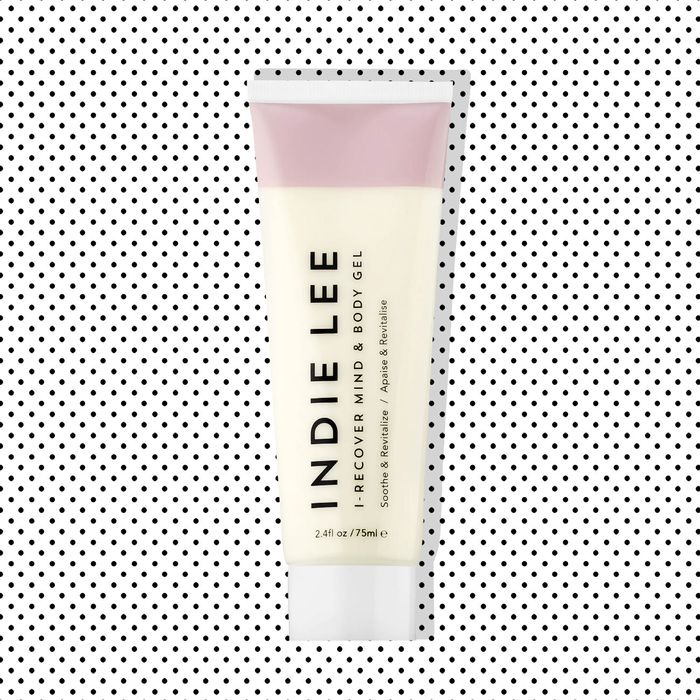 Photo: Courtesy of the Retailer
I'm usually too much of a sloth to warrant or deserve any kind of muscle soother, but after taking my first 12-mile bike ride in two years the other day, my back and neck were begging for mercy.
I took a muscle-soothing bath. Meh. Then I lay on the rug and stretched a little. Better. As I was reaching for my moisturizer, a chic white tube with a black eye-chart font caught my eye: Indie Lee I-Recover Mind & Body Gel.
"I finally deserve you," I quietly said as I unscrewed the cap and squeezed a big fat dollop onto my fingers.
Thanks to a blend of eucalyptus and menthol oils, this creamy gel announces itself as soon as you're done rubbing it in. Yes, it feels cooling (thanks to those aforementioned oils) but the sensation goes beyond that. For a few minutes, I felt as if a vibrating hi-tech poultice had been wrapped around my torso. The sense eventually dissipated, but I loved it. So I squeezed out another dollop and tried it on my leg and feet.
You know how great your legs and feet feel after a really good pedicure? That almost after-shave bracing sensation on the bottoms of your feet? And your legs have more of a spring in their step? That's kind of what this gel did. I applied it to the bottoms of my feet a few hours ago and I can still feel it now.
I-Recover also contains lavender and patchouli essential oils meant to alleviate stress, which is helpful if you suspect some of your aches and pains are mind-related. Until then, just knowing that this gel exists is incentivizing me to ride again next weekend.
If you buy something through our links, New York may earn an affiliate commission.