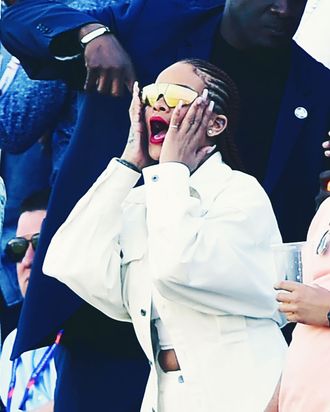 Photo: Nathan Stirk/Getty Images
Rihanna is many things: pop star, fashion designer, lingerie purveyor, beauty guru. On Monday, we were reminded that she is also a huge cricket fan.
While her peers were sitting front row at Paris Couture Week, Rihanna was cheering in the stands at a Cricket World Cup game, which took place in London. She wore an all-white Fenty outfit from her new fashion line, which included jeans, a tank top, a collared jacket, and tinted sunglasses. Not exactly a sports uniform, but it didn't matter. Rihanna was in the game. She cheered. She laughed. She cried. She drank what looked like champagne, and some beer. The fact that she didn't spill and stain her outfit is a win in and of itself.
The cricket match was between the West Indies (Miss Robyn Rihanna Fenty is originally from Barbados) and Sri Lanka. That's pretty much the only thing I understand about it, other than that the West Indies lost, falling 23 runs short. I can't even tell you what the score was, because it's too confusing. All I know is that Rihanna seems to know everything about cricket. And now I want to know how cricket works, too. Go team!