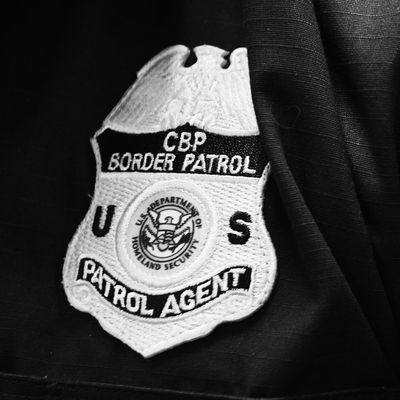 Photo: SAUL LOEB/AFP/Getty Images
In a secret Facebook page for former and current Border Patrol officers called "I'm 10-15," members made racist, sexist, and inhumane comments about migrants, and government officials, including representative Alexandria Ocasio-Cortez, according to a new report by ProPublica.
The group — whose name refers to the Border Patrol's code 10-15, for "aliens in custody" — reportedly has about 9,500 members, which is nearly half the current number of Border Patrol officers. ProPublica reported that they were able to connect many of the participants in the conversations to "apparently legitimate Facebook profiles belonging to Border Patrol agents."
On the page, members joked about the deaths of migrants, with one sharing a GIF of Elmo saying "Oh well," in response to a story someone posted about Carlos Gregorio Hernandez-Vasquez, a 16-year-old Guatemalan migrant who died in custody at a Border Patrol station in Weslasco, Texas. "If he dies, he dies," commented another.
Another member shared the viral photo of Óscar Alberto Martínez Ramírez and his 23-month-old daughter, Valeria, who drowned trying to cross the Rio Grande in June. "I HAVE NEVER SEEN FLOATERS LIKE THIS," they wrote, suggesting that the photograph had somehow been altered. (As ProPublica notes, there is no indication that it has been.)
Representative Alexandria Ocasio-Cortez, who has compared migrant detention centers to concentration camps, is a frequent subject of disgusting memes and comments. Multiple illustrations have been edited to show the freshman congresswoman performing oral sex — in one, on Donald Trump, and in another, at an immigrant detention center with the caption, "Lucky Illegal Immigrant Glory Hole Special Starring AOC."
Ocasio-Cortez is scheduled to tour a Border Patrol facility in Texas on Monday, along with other Latinx congresspeople, including Texas representatives Veronica Escobar and Joaquin Castro. When someone shared the news in the 10-15 group, one member suggested stating a GoFundMe "for one CTX agent brave enough to throw a 10-15 burrito at one of these bitches." Another member, who appears to be a patrol supervisor, wrote "Fuck the hoes."
"These comments and memes are extremely troubling," said Daniel Martinez, a sociologist at the University of Arizona in Tucson who studies the border told ProPublica, adding that the content is "clearly xenophobic and sexist," and reflects what "seems to be a pervasive culture of cruelty aimed at immigrants" within Customs and Border Protection (CBP), the agency that oversees Border Patrol.
"This isn't just a few rogue agents or 'bad apples.'"
"This isn't about 'a few bad eggs,'" Ocasio-Cortez agreed in a tweet on Monday that linked to ProPublica's story. "This is a violent culture."
CBP did not respond to ProPublica's multiple requests for comment.
Updated, 07/01/2019, 5:20 p.m.:
In a statement on published on Twitter Monday afternoon, CBP announced that it has launched an investigation into the matter, with Border Patrol chief Carla Provost writing, "These posts are completely inappropriate and contrary to the honor and integrity I see—and expect—from our agents day in and day out. Any employees found to have violated our standards of conduct will be held accountable."