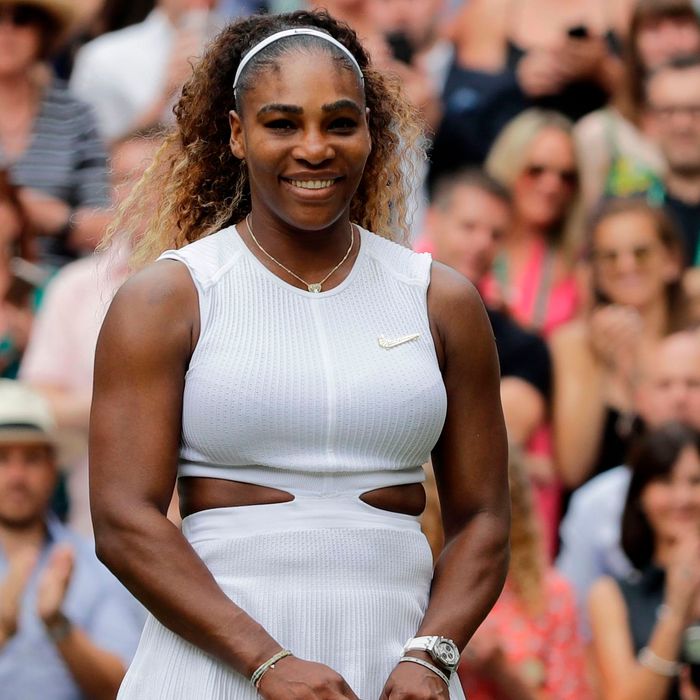 Photo: BEN CURTIS/AFP/Getty Images
Serena Williams may have lost Wimbledon, but that won't stop her from focusing on her activism. During a post-match press conference, Williams was asked to respond to fellow tennis icon Billie Jean King's recent comments that if Williams wants to win another championship, she should focus more on tennis and less on all the other amazing things she's doing. "The day I stop fighting for equality and for people that look like you and me will be the day I'm in my grave," Williams said before leaving the stand.
In June, King had commented on the setbacks experienced by Williams this year, including a lingering knee injury that caused her to withdraw from several tournaments. "She's got a baby, she's trying to help gender equity, particularly women of color, she's actually on the Billie Jean King leadership initiative; she and Venus are both advisors for it,'" King said, while pointing out that having all her responsibilities can make winning a tournament harder. "I would like her to put everything else aside, because she's got people working on those things. I wish she would just make a commitment for the next year-and-a-half to two years and say, 'I'm going to absolutely focus on what's necessary for my tennis, so when I look in the mirror when I'm older then I can go back in my mind and know I gave it everything I had.' "
King added that overall it is up to Williams to choose what she wants to focus on: "If she's happy doing it this way, then that's fine. It's whatever makes her happy, it's not about us." On Twitter, King clarified her comments saying that she would never ask Williams to stop fighting for equality.
Over the years, Williams has been outspoken when it comes to issues regarding women, and particularly women of color. In 2017, Williams spoke out against gender pay inequality, a topic that has also been hitting home recently for other women in the sports world. "The cycles of poverty, discrimination, and sexism are much, much harder to break than the record for Grand Slam titles," she wrote in an essay for Fortune. "Most black women across our country do not have the same support that I did, and so they often don't speak out about what is just, fair and appropriate in the workplace. When they do, they are often punished for it."
Williams also called out the double standards between women and men players when they display emotional reactions during games. In 2018, Williams was fined $10,000 for verbal abuse after calling an umpire a "thief" during a match. "For me to say 'thief' and for him to take a game, it made me feel like it was a sexist remark," Williams said. "He's never taken a game from a man because they said 'thief,' " she added. "For me it blows my mind. But I'm going to continue to fight for women."
At this year's Wimbledon final, Williams was defeated by Simona Halep 6-2, 6-2. Despite her third consecutive loss, Williams remains positive. "I feel like I'm just really on this journey of just doing the best that I can, playing the best that I can when I can," she said.