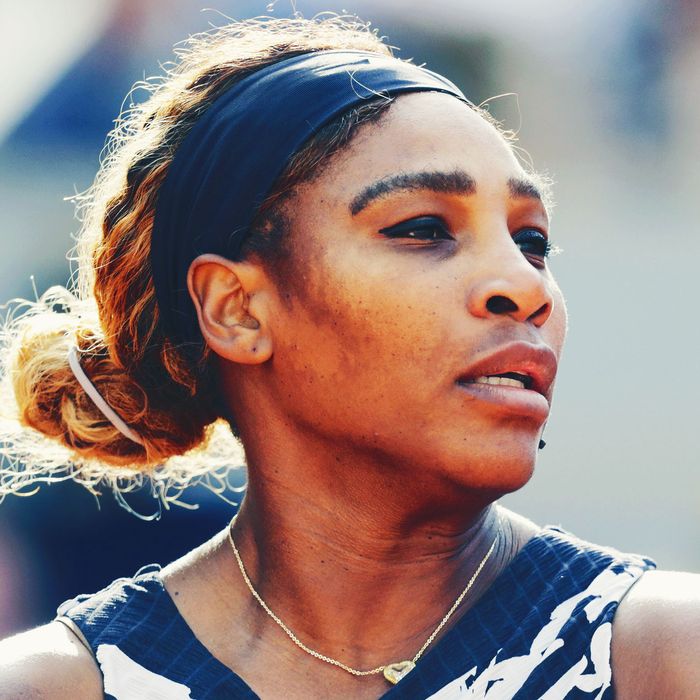 Serena Williams.
Photo: Thomas Samson/AFP/Getty Images
In an essay published in Harper's Bazaar on Tuesday, tennis superstar Serena Williams wrote about her struggles in the wake of last year's controversial U.S. Open final — which she lost to Naomi Osaka after umpire Carlos Ramos penalized her three times in a move that many saw as sexist and unfair — saying that the turmoil she felt in the days following the decision eventually led her to seek therapy.
During the September final, Williams received a warning from Ramos about coaching — Ramos claimed Williams's coach was sending her hand signals from the stands (a charge her coach later admitted to, though Williams maintains they had no system of signals), which Williams vehemently denied, telling the umpire, "I don't cheat to win; I'd rather lose." She then received violations for smashing her racket in frustration and for "verbal abuse" toward Ramos after she called him a "thief." Following the match, Williams was fined $17,000, and umpires reportedly considered boycotting her matches.
"After the Open, I returned home to Florida," Williams wrote in the piece, which is accompanied by a series of unretouched photos of the star. "Every night, as I would try to go to sleep, unresolved questions ran through my mind in a never-ending loop: How can you take a game away from me in the final of a Grand Slam? Really, how can you take a game away from anyone at any stage of any tournament? I turn over, exhausted from lack of sleep, thoughts still spinning in my head. Why can't I express my frustrations like everyone else?"
She added that, though she had faced many setbacks over the course of her career, this one felt different and hurt more because of how it colored Osaka's first Grand Slam win, "something she should remember as one of the happiest memories in her long and successful career." Indeed, Osaka was in tears when she accepted her trophy, and Williams had to urge the crowd not to boo her opponent.
"Days passed, and I still couldn't find peace. I started seeing a therapist. I was searching for answers, and although I felt like I was making progress, I still wasn't ready to pick up a racket."
Eventually, she said, she emailed Osaka to apologize, telling her, "I thought I was doing the right thing in sticking up for myself," but that "I would love the chance to live that moment over again."
"People can misunderstand anger for strength because they can't differentiate between the two," Osaka wrote in her reply. "No one has stood up for themselves the way you have and you need to continue trailblazing."
"This incident — though excruciating for us to endure — exemplified how thousands of women in every area of the workforce are treated every day," Williams wrote in her essay. "We are not allowed to have emotions, we are not allowed to be passionate. We are told to sit down and be quiet, which frankly is just not something I'm okay with. It's shameful that our society penalizes women just for being themselves."