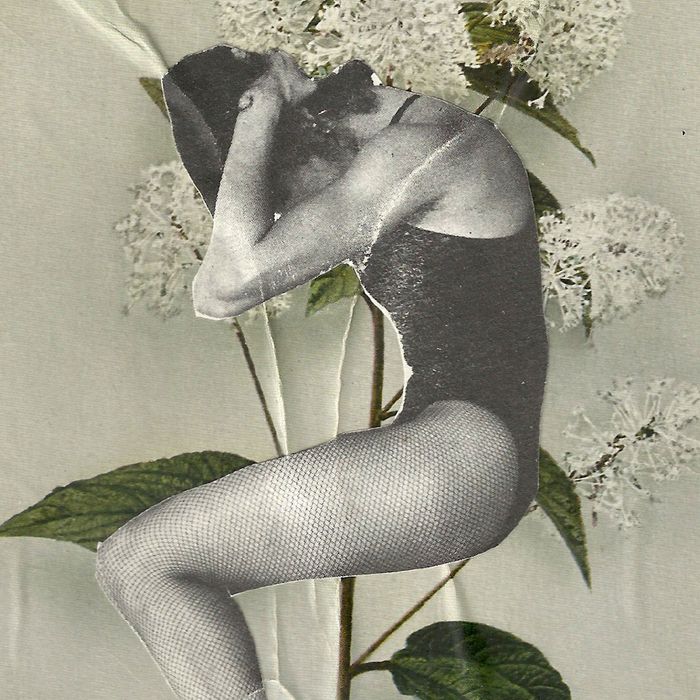 This week, a woman in a happy relationship who just started masturbating: 26, in a relationship, heterosexual, New Jersey.
DAY ONE
6:47 a.m. I wake up and go for a run at a park very close to my apartment. A mile is the goal each day, but sometimes I'm strapped for time and can only get a half-mile in. I lost around 22 pounds last year, after gaining that same amount when I saw a nutritionist who told me to eat avocado toast for breakfast and a sandwich for lunch. Now I'm doing my best to maintain, but bread still loves me. It always finds me.
9:00 a.m. I begin my journey into the city from New Jersey. Luckily, all this time commuting gives me plenty of time to read. Right now I'm reading a memoir about five men who broke the author's heart.
9:15 a.m. I get a text from my boyfriend saying how much he loves me and that he's excited for the future, which gets me all warm and fuzzy inside. We've been together for almost three years with a long stint as friends. I'm so glad we're coupled, I could scream.
10:00 a.m. I work in digital marketing, and I love my job and the company I work for, but sometimes other people make it unbearable, I mean … people suck.
6:00 p.m. Heading home. Not such a bad day but I know of some projects coming down the pipe that'll give me a headache.
9:00 p.m. A few weeks ago, my boyfriend gave me a selfie stick, so I use it to get the best angles for some nudes I send to him. He lives in Brooklyn. He tells me he's drooling and needs to see me ASAP.
DAY TWO
7:00 a.m. It's raining so I can't go for a run. I silently celebrate and sleep until 8.
8:45 a.m. I pack my lunch every day to save money, and to keep my weight under control. I prepare a boring salad with apple cider vinegar and some mixed berries to eat.
1:00 p.m. I can finally start eating. Just started this intermittent fasting thing, and while I notice the results, it's torture to smell all the coffees and breakfasts all morning. I devour an orange as if it's chocolate. I wish it was chocolate.
5:45 p.m. I'm at my hot-yoga class, which I love. It's not as vigorous as running, but this instructor is pushing me to the point where my ankles are sweating, and I didn't even know you could sweat there!
9:00 p.m. My boyfriend and I are about to FaceTime so I can use the selfie stick with him. I make sure the lighting is everything, and I masturbate with my fingers for the first time while he watches. I come. This isn't a part of our nightly routine, though we have FaceTimed while we both masturbated once before. It was his idea originally, and I'm totally comfortable with this because I trust him, and I wear my headphones when we do this so he's guiding me, talking to me, turning me on. I live alone in a studio, so no need to be quiet.
DAY THREE
6:56 a.m. I wake up with enough time to run, and it isn't raining so I motivate myself to get out there.
11:00 a.m. I let my mind wander, getting excited for the wedding in a couple of days. My boyfriend and I are going to his cousin's wedding upstate and I'm his plus-one. Despite the fact that we've been together for a bit, it still gives me butterflies that he's invited me.
3:00 p.m. Those nightmarish projects are rearing their ugly heads. In this moment I decide I'm going to masturbate again tonight. Maybe it'll help me relax? Not sure. It's all so new to me. I think once I get good at it (coming hard), masturbating would be a great way to relieve some stress. I haven't gotten into watching porn yet. I only use it for education. The last thing I looked up was reverse cowgirl, because I want to get better at it.
6:00p.m. On my way home, I examine all the reasons why I never tried masturbating before the age of 25. The main one being: No one ever talked to me about it. Not in school, for sure not my deeply religious parents, and my friends never mentioned it either. Once I finally found out masturbating was a thing, I developed the fear of hurting myself. I mean I've never even used a tampon, so my fear runs deep, despite the fact that dudes have used their fingers, and my OB/GYN, for medical purposes, of course.
Finally, and this is especially silly, I thought if you masturbated that meant you couldn't get a man to take care of your desires.
My boyfriend asked me if I masturbated early on in our relationship, and I told him I didn't, and he said: I would consider trying so you can tell me what you like. I didn't want to to do it because he asked me to, so I found my own way to it. I'm a slight Goop person in that I loved their sex issue, which made me curious about masturbating. Then I listened to some sex podcasts, and I knew I had to get into it for the sake of knowing my own body. Then I bought a vibrator last fall at Goop's pop-up shop, with some lube.
8:00 p.m. I put on the playlist my boyfriend made for me, grab some lube and begin. My technique has improved since I come a bit more. I should do this more often.
DAY FOUR
9:00 a.m. The wedding isn't until tomorrow, upstate. But I meet my boyfriend, along with his mom, brother, and grandparents, in Brooklyn, to drive there a day early, which I don't mind. I love getting out of the city to see a patch of grass and a tree or two every once in a while.
4:00 p.m. After being trapped in a car with his mother and brother for hours, we get to our hotel room and rip each other's clothes off, have passionate sex where I squirt, he rubs my come all over my body, which is so hot, I get on top, he comes, we cuddle and he promptly falls asleep. I lie awake for a bit, thinking about the fact that I've never truly had an orgasm before I met him. I've had maybe five or six partners before him, and I have never squirted with any of them. With him, tears have streamed down my face from coming so hard.
6:00 p.m. His mother picks us up to go to dinner at a place my boyfriend found. The food is amazing and we all pig out; I actually impress her with how much I can eat. Not sure if that's a good thing, but I don't care, I love eating.
8:00p.m. We're too full for sex. I really hate having sex on a full stomach so I give him head, which I really enjoy doing. He comes and we fall asleep naked as we usually do.
DAY FIVE
2:00 a.m. We're both awake, so he flips me over on my stomach which gets me really excited. He checks to make sure I'm ready for him, which, duh. He gets me on all fours and performs oral sex from the back, which turns me on even more. We have sex and he comes. We quickly fall asleep.
7:00 a.m. I get up to use the bathroom, and: Fuck. The toilet in our hotel room isn't flushing. I rush downstairs to let them know. They're sending a plumber up at 11 am, so I crawl back in bed with my boyfriend, and think: "God he's so sexy," and go back to sleep.
5:00 p.m. Showered, and we're ready for the wedding. He tells me a million times how good I look and can't stop touching me. I swat him away, knowing we don't have time for sex right now, but I wish we did.
6:00 p.m. The wedding was beautiful, but I didn't cry as I normally would, maybe because it's outside and I can't hear the vows they've written, or maybe I've really settled into my desire to not get married? Before I met my current partner, I thought it was insane to live with the same person for the rest of your life. I also recognize the point of marriage was to combine assets so you have more property, as well as a husband to support you and your children that you must have so they can work the land. In short: Marriage is outdated. I don't need the government acknowledging the union I've chosen. It's between my partner and I.
7:30 p.m. My boyfriend leads me outside to a rooftop so we can watch the sunset together. He's so romantic, and I'm so happy he's my partner.
8:00 p.m. I decide not to get drunk at the wedding reception and instead I have two glasses of red wine, all the food I can eat, and three slices of cake, while chatting up his uncles, aunts, and cousins.
11:30 p.m. Back at the hotel finally! My feet were starting to punish me for wearing strappy heels the entire time instead of bringing a pair of flats to change into like literally every other female at the reception, but anything for fashion.
DAY SIX
12:00 p.m. We sleep in after a long day. His family is staying for the weekend, so we are, too. Luckily his family is so nice, fun, and welcomes me with open arms, so I'm excited to spend the day with them. My partner has met my parents, but our families haven't met yet. When it happens, I think it'll go well since both of our families are expressive and like to have a great time.
2:00 p.m. We grab beers, ice, and whatever else we need for the party and head to the cabin. I love how close his family is with each other, and I silently wish my family was this way, but with how crazy they all are, it's best that we're a bit distant.
4:00 p.m. My boyfriend I go for a walk around the scenic property, and he lets me know his family really likes me, which makes me so happy I could scream. I'm not that self-absorbed but after years of terrible relationships where the dude wasn't really interested in me, I'm glad I've come this far with my self-esteem.
9:00 p.m. It's the end of the night and some of the crazy uncles have fireworks, so we watch, and my boyfriend puts his arm around me. Again, despite the fact that we've been together for a while, I do not take these gestures for granted.
11:00 p.m. We're back at the hotel, exhausted. No sex tonight, but we'll see what happens in the wee hours of the morning.
DAY SEVEN
11:00 a.m. We have to rush around since check-out is at noon, but we manage to squeeze in a quickie, thank god. We both need it before we're back in the car for hours. He has me bent over, and I come pretty much immediately.
1:00 p.m. We're on our way back to the city, and the ride is pretty quiet and terribly scenic so I take the time to stare out of the window and reflect on the weekend. I had such a great time spending a few nights in a row with my boyfriend, and we've been talking about moving in together, so maybe this extended time together is a good gauge of how we might be if we made the leap.
4:00 p.m. We head to our respective apartments. He kisses me and sends me on my journey.
7:15 p.m. Finally home, and I'm exhausted. I text my boyfriend the house emoji. I flop on my bed and consider masturbating but I'm not in the mood — though I do like the new option. I'm glad I'm finally embracing myself. My mind slowly wanders to my partner. Being with him is bliss. I'm not sure "where it'll go," but I love this quote that I read somewhere — actually it was on The Cut: "I don't really know if it's love, but I wouldn't mind hanging out with him for the rest of my life."
Want to submit a sex diary? Email sexdiaries@nymag.com and tell us a little about yourself.