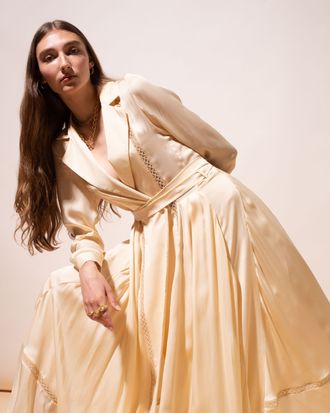 Photo: Jenna Saraco/Courtesy of Arjé
If I were fancy enough to spend my summer on Lake Como or as a secondary character in Call Me by Your Name, I would have a closet filled with Arjé for the occasion. As it stands, Arjé still can get you halfway there. The New York brand's eighth season is all about melding summer and the city. Each season focuses around a handful of colors — this time it's sun-washed shades of camel and pale gold, with pops of blue and red stripes that also look like they've been left out on the balcony for a few days. The collection, which is available now on their site as well as Net-a-Porter for the women's collection and Matches for the men's, is fittingly called Away With Arjé.
And while everything is infused with a "nice dinner on vacation" vibe, it's also intended to be versatile enough for when you aren't, in fact, on vacation. There are suiting separates, flowy dresses with crochet insets, and wide-leg pants. Neutrals are hot now, as is the weather, as are these clothes.
Shop the Story
If you buy something through our links, New York may earn an affiliate commission.