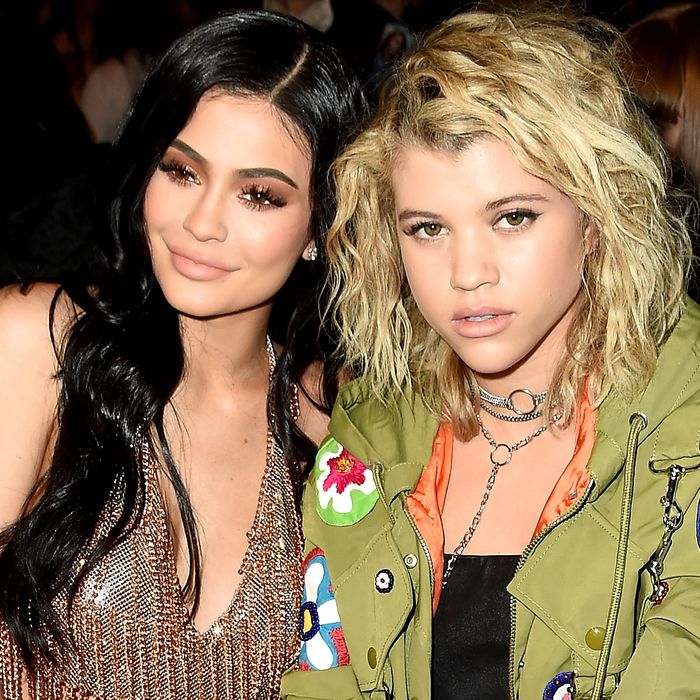 Photo: Nicholas Hunt/2017 Getty Images
When Scott Disick started dating then-teen Sofia Richie in 2017, it was a surprising romantic pairing, to say the least. Fans were quick to call out their 16-year age difference, and even Kendall Jenner once hilariously responded to a photo of the couple with Disick's children, commenting "Awww Scott and his kids." It was also one of the rare times when a member of the Kardashian-Jenner family publicly acknowledged Disick and Richie's relationship.
Now it seems that the 20-year-old Richie has become a welcome part of the family's inner circle, especially when it comes to Kylie Jenner. The two have been making appearances on each other's Instagram feeds, and Richie also joined Jenner for her Kylie Skin celebration in Turks and Caicos. According to E! News, Richie and Jenner have "formed an irreplaceable bond."
A source told E! News that while it took a "very long time" for Sofia to be accepted into the famous family, Jenner and Richie ended up becoming closer after the drama with Jordyn Woods unfolded. "Sofia really helped Kylie through the emotional roller coaster during the Jordyn situation," the source said. "She was really there for her and took her side through everything. The situation with Jordyn made them closer."
Kourtney Kardashian, who has vacationed with her baby daddy and his girlfriend, has also been more open about her relationship with the couple. In her May interview with PAPER, Kardashian described her relationship with Disick and Richie as "probably the thing I'm most proud of." She's also apparently really happy about her sister and Richie's friendship. "She has seen firsthand how much of a support system Sofia has been for Kylie, and it makes Kourtney feel even better about her dynamic with Sofia as well," the source said. "There is no more awkwardness or tension like there was a year ago."
But isn't it still a little awkward for the rest of us?