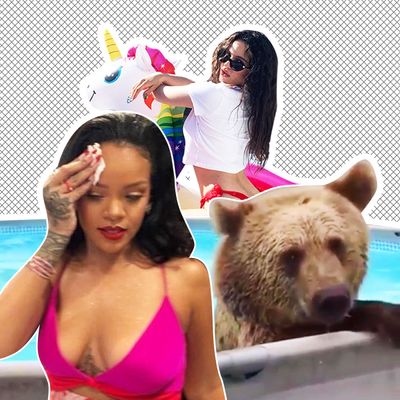 Rihanna, Rosalia, a hot bear.
Photo: @badgirlriri/Instagram, @rosalia.vt/Instagram, @dailybearz/Instagram
It's near-impossible to describe a Summer Mood — you simply know one when you see it. For some, it's a video of a jubilant bear, repeatedly jumping into an aboveground pool; for others, it's Rihanna rolling a blunt on her bodyguard's head. Below, the images, memes, and videos that nine writers say best encapsulate their 2019 summer energy.
A moose in a sprinkler
In my earliest days of existence, my mother decided the most appropriate nickname for me would be the Moose. For baby me — long and thin like a pencil, with a pink eraser of a head — it was an odd choice, everyone thought, including me. At least until Saturday, when I found myself standing in the mist of an open fire hydrant, my brain vacant except for the word cold. Hours earlier, the heat index had topped 110 degrees, and even after the sun went down, the temperature outside stayed on par with the inside of a human orifice. So here I was, wrists plunged into an icy stream, a chilly trickle of municipal water trailing down my neck, all bovine and blank and single-minded like a … moose? Or, specifically, the Alaskan moose that beat the broiling heat wave by co-opting someone's lawn sprinkler. As a meme, Sprinkler Moose is eminently relatable: just a lady (this is nonnegotiable) trying to chew her cud in peace while a sheet of water fans her flanks like a palm frond. She is also me. I'm the (Sprinkler) Moose, frozen in a fire hydrant's cooling jet, hell-bent on refreshment. — Claire Lampen
Joaquin Phoenix and Rooney Mara holding dead animals at an animal-rights protest
bringing salsa to a potluck
caring for my plants
blogging in a big chair while my boyfriend writes about liberalism on the couch
going to the corner store to get some lemon-lime Gatorade
offering my thoughts on what the Cats movie will be like
paying rent
avoiding physical contact on the subway
getting up early to write bird content
walking around the Foodtown, pretending to buy something, when in fact I'm just enjoying the air-conditioning
standing in line at the Apple store, holding a melted phone
— Hannah Gold
Ashlyn Harris drunk on a yacht


After going through some disorienting life changes this spring, I decided to pick up a new habit no sane person would voluntarily engage in: going alone to big gatherings where I know only the host, with the goal of convincing total strangers I'm cool and smart and fun in the hopes of then convincing myself I am all of those things. (No questions at this time, please!) So when I watched U.S. women's soccer player Ashlyn Harris, 100 glasses of Champagne deep into a celebratory post–World Cup yacht ride, whisper into her Instagram story, "I don't belong here," I felt that. I don't belong here, I thought at the cookout, after telling a stranger to "fuck off" following a heated dispute about hot dogs. I don't belong here, I worried, when I showed up to a barbecue with a six-pack of High Life and all I saw were bottles of natural wine. My favorite part of Harris's story from that night, though, comes just moments later, when she completely reverses her opinion in the way one can do only after consuming 1 million drinks, and yells, "I'm built for this life!" While I have not yet experienced that inspiring change of heart, I know I may one day show up to a party and actually convince people I'm cool — or, at the very least, feel like I'm not entirely unwelcome. I might just have to have a quick argument about tubed meat on my path toward success. — Amanda Arnold
Anna Wintour in a tank top
After spending all of last summer wearing Cut T-shirts, and then tie-dyeing said Cut T-shirts, I decided I needed to embrace a more low-key uniform this year — specifically white ribbed Hanes tank tops, which you can buy in packs of six on Amazon for dirt cheap. Clearly, I've spent a lot of time watching The Sopranos. I also recently started watching The O.C. for the first time, and Ryan Adams is a physical manifestation of the tough-guy garment. But the real tank-top icon at the center of my summer mood board is Anna Wintour, who wore one on the cover of New York magazine in 1999 underneath this [chef's kiss] headline: "The Summer of Her Discontent." My colleague Ted Hart recently surfaced this perfect image (and the delicious article, which you should read). But I still can't get over (1) that Anna Wintour wore a tank top on the cover of a magazine and (2) HER ARMS (!!!). She looks like someone who works high up in "sanitation," not fashion. Because of this image, it is the summer of my absolute, complete, and utter content. I want it to run me over with a garbage truck. — Emilia Petrarca
Rihanna rolling a blunt
Where were you the first time you saw that picture of Rihanna sitting on her bodyguard's shoulders, rolling a blunt on the top of his head? All I remember is feeling like someone had switched on the light inside my soul — in fact, I often say that was the moment I fell in love with Riri. The year, 2012; the place, Coachella. Since Rihanna has a great sense of humor, she posted a collage of the moment on her Instagram with the caption "Memories don't live like people do #coachella."
This was way before the widespread legalization of cannabis in the country, and because of the photo's high-contrast filter — this was 2012, after all — people thought the weed looked like a white substance and accused her of doing cocaine on that bald head! (How dare they try to mock a resourceful queen with this foolishness.) Rihanna ended up deleting the now-legendary collage but not before tweeting, "I'm crazy and I don't pretend to be anything else." Okay! I feel like this bald-headed blunt-rolling scenario was a catalyst for every incredible moment she would bring us in the years to come: #BBHMM, Fenty Beauty, those fluffy pink Puma slides, walking over sidewalk grates in stiletto heels. And now, every summer since, when the days are long and the nights are hot and I'm trying to invoke some kind of indulgent, IDGAF energy, I think about that moment with Rihanna, some bud, and a bald head. — Marie Lodi
A bear repeatedly jumping into a pool
As a person, I do not belong in the summer — my nickname from June through September is Sarah Swellings because of how much water I retain. My feet are puffy, my rings don't fit, and I simply want to be by a fan with a large Diet Coke until October. The only time I am pleased with the heat is when there's a pool. In that environment, I turn into this bear: I floppily jump in, jump out, and am thrilled with myself and the state of the world. Her (the bear's) energy is infectious, as she jumps out of the pool only to go, "again! again!" and go right back in. She is an inspirational summer mood even when I'm not by a pool (which is 99 percent of the time). Summer and I may go together like a bear and an above ground swimming pool — that is to say, it's a mismatch — but I'm gonna find something that makes me happy, goddammit. — Sarah Spellings
Rosalía celebrating #Glastonbooty
Sexy pool-float pics are by no means rare, especially at the height of "hot girl summer." But when you bring a bomb-ass pun into it, then I'm onboard. May I present this June 27 Instagram post from Spanish singer and woman of all our dreams Rosalía, in which she promotes her upcoming performance at the Glastonbury music festival by highlighting her "Glastonbooty." Yaaaasssss. It also helps that this woman released my personal song of the summer, "Aute Cuture," featuring a horn line that even "SpottieOttieDopaliscious" fans can get behind. — Nikita Richardson
The Hustlers trailer
I come from the Themyscira school of thought on cis straight men, in that I view them as generally extraneous. Sure, there are a few good ones and they perform a small set of necessary functions, but otherwise: nonessential personnel. But you know what one of those few vital jobs is? Being robbed by beautiful women in major motion pictures for my entertainment. Megan Thee Stallion said, "Hot girl summer!" and I felt the true meaning of that when I watched the trailer for Hustlers. In my ideal life, I'm rich enough to not sweat my bills, and I'm surrounded by a chosen family that looks after me, includes Jennifer Lopez teaching me the finer points of pole work, and is populated by great-looking women taking back their power in a patriarchal society by robbing the hell out of rich dudes. I didn't even realize that was my dream until I saw the Hustlers trailer, honestly, and if loving your body and yourself and cash and celebrating life by pouring Champagne into your best friend's mouth isn't a summer mood, then I don't know what is. It's the Bling Ring that 2019 needs. — Jordan Crucchiola
Rihanna blotting her forehead


Summer is my favorite season, which makes no sense because I instantly enter a state of peril when I look into a mirror to see entirely too much sweat glistening on my face. It settles into a cute, dewy appearance if I'm lucky, but on my worst days, you can find me blotting my face with a napkin in the middle of a crowded station. That's why this photo of Rihanna on a trip to Singapore to promote her Fenty Beauty line embodies my summer mood: She's wearing a brightly colored sleeveless ensemble (I rebuke all possibilities of pit stains). I'm not sure if that's glitter on her chest or just sweat, but I've totally been there! Rihanna is committed to the grind and to her look, even when her hair and makeup might be slick with sweat. I vary on this front, but it's very aspirational.
Her fans smile behind her as she frets away. She tries to stay collected, but it's obvious Rihanna is on the move to a location with A/C! There's something sinister in their pure disregard for the heat, their excited motivation. It reminds me of all the responsibilities that loom over my shoulder. For now, I press a manicured hand to my forehead and try to get through it all. — Melinda Fakuade