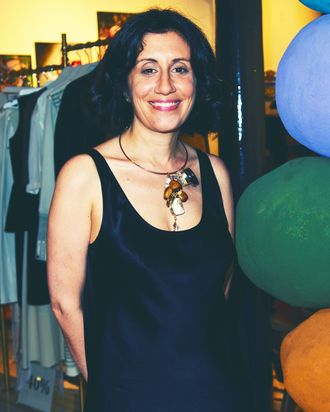 Photo: David M. Benett/Getty Images
Before bralettes and granny panties were de rigueur, Araks Yeramyan was championing the less-is-more aesthetic when it comes to lingerie. Remember the opening scene of Lost in Translation where Scarlett Johansson is lying on the bed in a pair of sheer briefs? Those are Araks. The brand has been making quality lingerie and swimsuits since 2000 — lingerie you could wear every day, or break out for special occasions. As for Yeramyan herself, she calls her personal taste "late 80s Esprit mixed with 1997 Prada with a dash of Japan. Or refined, minimal, and feminine." We spoke with her about logos, Big Little Lies, and wearing stripes on stripes.
How do you thank someone for a gift?
A handwritten note.
What would you never wear? 
Logos.
What's your dream vacation?
Going somewhere remote and special, like a small island in Brazil.
What's a good book on your coffee table right now?
Wolfgang Tillmans.
Last show you binge-watched?
Big Little Lies.
Secret to hosting a good party?
A relaxed atmosphere. Not worrying about everything being perfect.
What is a trend that you like right now? 
Quitting single-use plastic!
One you don't understand? 
Athleisure.
Favorite museum/gallery? 
Bridget Donahue.
Shoes you wear most often?
I alternate between Vans and Tevas.
What's your favorite … 
Pajamas? The Araks Shelby and Tia silk pajamas.
Candle? Beeswax.
Restaurant? Bar Pitti.
Socks? Polka-dot or striped.
T-shirt? Etre Cecile makes my favorite T-shirts and sweatshirts. 
Can you share three Instagrams or photos of yourself that define your style?
What can I say? I LOVE stripes and navy, so having so many navy stripes in all directions is heaven.
I love lighthearted humor — it's something I try to impart in my own brand.
This outfit to me says: casual, classic, fun, and I can keep up with two young boys.
Can you take a photo of your favorite space in your studio/office/home? And a brief explanation of why it's your favorite?
This is my wall of color. It makes me happy, just walking by it, glancing at it, it's always a mood lifter.
Shop the Story
If you buy something through our links, New York may earn an affiliate commission.