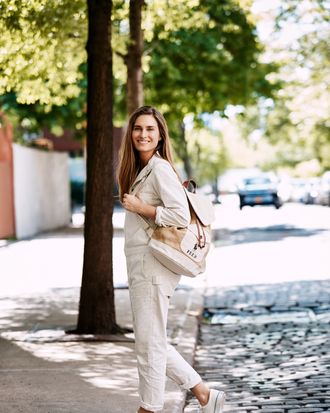 Lauren Bush Lauren.
Photo: Courtesy of Ralph Lauren
Lauren Bush Lauren describes her style as "classic, with a touch of bohemian." But that touch goes a long way. From her wild, wild West wedding in 2011 to her natural-colored, canvas-heavy brand FEED, she has a strong rustic aesthetic.
Lauren says she wouldn't wear heels all day, for instance, but is onboard with the resurgence of headbands. Most recently, she's launched a capsule collection with Ralph Lauren Polo consisting of accessories with the FEED branding and a Polo logo. FEED — which Lauren co-founded in 2007 — gives meals to children around the world with proceeds from each purchase. For the new capsule, one backpack provides 145 meals, while a baseball cap provides 89. You get the idea. We spoke with her about tie-dye, clean perfume, and her dream vacation.
How do you thank someone for a gift?
I am old-school when it comes to handwriting thank-you notes for gifts on proper stationery.
What is something you would never wear?
High heels all day long.
What's your dream vacation?
My dream vacation would be to rent a house near the Mediterranean Sea with my husband and my boys.
What's a good book on your coffee table right now?
Homage to Humanity by Jimmy Nelson.
What was the last show you binge-watched?
Game of Thrones.
What's your secret to hosting a good party?
Good food, good wine, and most importantly good people.
What is a trend that you like right now?
The comeback of headbands and hair pieces.
One you don't understand?
The resurgence of tie-dye.
What's your favorite museum/gallery?
The Tate Modern in London and the Whitney in NYC.
What are the shoes you wear most often?
Everlane loafers or Adidas sneakers.
What's your favorite place in your home/office/studio? Why is it your favorite?
It was a dream come true to open the FEED Shop & Café two years ago in Dumbo, Brooklyn. I love bringing the FEED brand to life in this way and creating a really warm environment for folks to gather, get their daily coffee, learn about our mission, and shop our products.
What's your favorite….
Pajamas?
Cotton pajamas by Ralph Lauren.
Candle?
The FEED Candle, which is hand-poured by Brooklyn Candle Co.
Scent?
Cassis Perfume Oil by Maison Louis Marie.
Restaurant?
NOPI in London and Polo Bar in NYC.
Socks?
Bombas.
T-shirt?
A 'Keep Austin Weird' T-shirt that I have had since high school, also a vintage New York Magazine T-shirt, that I wear often as well.
Shop the Story
If you buy something through our links, New York may earn an affiliate commission.