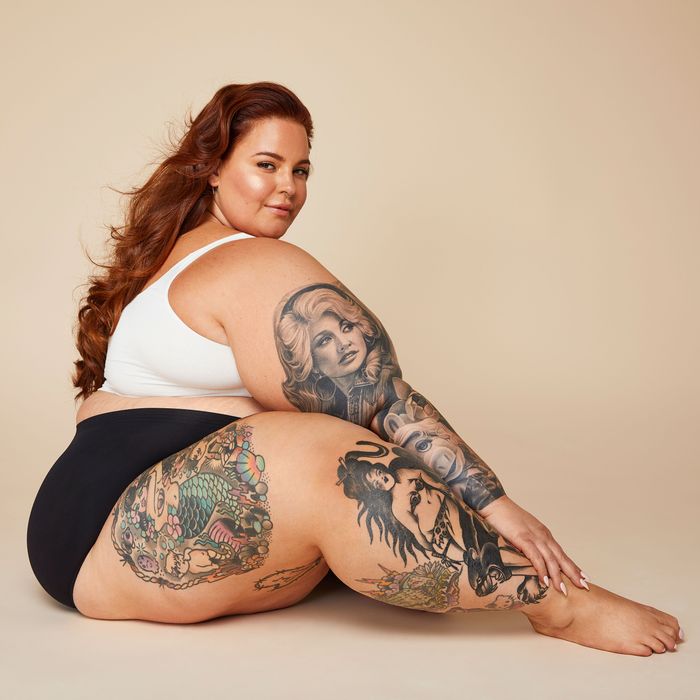 Photo: Courtesy of Isle of Paradise
Tess Holliday, the plus-size supermodel and creator of the #effyourbeautystandards movement has seen the modeling industry change quite a bit in the past few years. But she feels like she still has some work to do. To further spread her message of body positivity, she's partnered with celeb spray tanner and founder of the self-tanner brand Isle of Paradise, Jules Von Hep. The brand's new "Get Body-Posi" campaign, which even Estee Laundry couldn't say anything bad about, also features Love Island's Megan Barton Hanson, Tess Daly, and Von Hep, to name a few. And to help others with their own journey of self acceptance, a free body positivity workbook is also available to download on Isle of Paradise's website. It's filled with tips on how to stop the cycle of comparison, and to find happiness within yourself.
The Cut last talked to Tess in 2016 when People crowned her "The World's First Size-22 Supermodel." We caught up with Tess on what has and hasn't changed in the modeling industry since then, what she tells herself when she's not feeling so confident, and how self-tanner makes her feel.
In 2016 you told The Cut, "Publications cover body positivity to be trendy, rather than to invest in women of all sizes. They're just trying to capitalize on the term because it's a hot topic." Have you found that's changed in the past three years?
I think that brands are better but I still feel like they are missing the mark quite a bit. What I do think has really changed is consumers. They're now aware of body positivity and what it means, and they are more conscious about whether a brand is being positive or not. I feel like they can smell it more than they used to. But like everything that becomes mainstream, there's still a lot of work that needs to be done to make sure that [the message] doesn't get diluted.
You also said, "there needs to be more diversity in all areas — height, gender, race. I'm still the shortest and biggest working model and I'm probably going to be for a while." Have you seen improvements there?
I don't know if I'm still the shortest and the biggest. Things have changed so much. There's a new wave of models that have come up that are doing a lot. But if you look as far as plus-size models past a size sixteen that are working in major campaigns, you're still not seeing it.
Do you feel like you still have to fight for the same respect as other models?
Oh, absolutely. There's a ton of plus models I follow on social media that are bigger than me and shorter than me. I'm still the only tattooed one and I'm still, to my knowledge, the biggest one that's working. It's frustrating because companies will still use models my size or bigger for a pat on their back. I still don't see companies putting money where their mouth is.
As someone who's pale, why does self-tanning appeal to you?
When my team came to me and said that Isle of Paradise was interested in working with me I laughed because I thought, I'm known for being pale. I'm fair skinned, I've always embraced it. I had this notion in my head that [after self-tanning] people would smell and you're sticky and it transfers everywhere. I already have enough drama in my life, I don't need to wake up to a brown bed. When I got my first spray tan in London by Jules, who's the owner of Isle of Paradise, I fell in love because it wasn't about being tan, it was about being glowy. I think the reason it appeals to me is that it makes me feel sexy. It makes me feel like kind of an alter ego version of myself.
How do you protect your fair skin from the sun?
I wear sunscreen every day, especially living in L.A. Neutrogena has a new 100 SPF body mist that doesn't go on heavy. It also makes your skin look shimmery. I'll use that all over my body and then for my face I'll use Supergoop sunscreen. I'm obsessed because it's not greasy, it's light.
Do you have moments when you struggle with body positivity? And how do you overcome that?
I struggle with body positivity daily. Sometimes I'll wake up and feel amazing, and then three hours later I'll catch myself at a bad angle in the mirror and have to remind myself while my feelings are valid, that's not my reality. I don't actually feel badly about myself, I don't hate how I look. In that moment I might, but that's not my reality. Those are behaviors that I'm trying to unlearn and undo.
If anyone says they've loved themselves from the moment that they were born, they are liars. I just tell people, be patient with yourself, be kind, and surround yourself with people that are going to uplift you and support you.
This interview has been edited for length and clarity. 
Check out Tess's favorite products, and the Isle of Paradise self-tanning line, below. 
If you buy something through our links, New York may earn an affiliate commission.