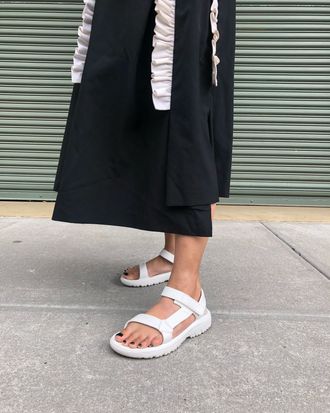 My sandals, the day after the rain apocalypse.
Photo: Courtesy of the Retailer
People like to say getting dressed during a heatwave is tricky, but the hardest outfit to plan is the one you wear the day the heatwave inevitably breaks. If it was anything like yesterday in New York City, you'll start out with blazing heat and high humidity, only for the skies to open and torrential rains to fall. I refuse to wear rain boots in July — they're far too stuffy. Allow me to present to you my platonic ideal of a rain-apocalypse shoe: the all-rubber Teva sandal. Made from injection-molded EVA, they're as cushy as sneakers and lighter than anything in my closet.
I threw on my pair yesterday with a black cotton dress — the combination looked as if it came straight from the Cecilie Bahnsen runway. And while it was stylish, it also happened to be highly functional, too. When the skies opened at 6 p.m. and I attempted to commute home through the flooded streets, I came to terms with my fate. Even with an umbrella, I knew I would get soaked from head to toe. Instead of ruining a pair of nice sandals, my trusty Tevas could handle subway waterfalls and still look good the next day. Yes, it might sound gross that I was puddle jumping in New York City with bare feet, but it's no worse than letting that dirty water settle in and evaporate on closed-toe shoes. I washed my feet the minute I got home — and my Tevas look just as good now as they did before the rainstorm.
Shop the Story
If you buy something through our links, New York may earn an affiliate commission.