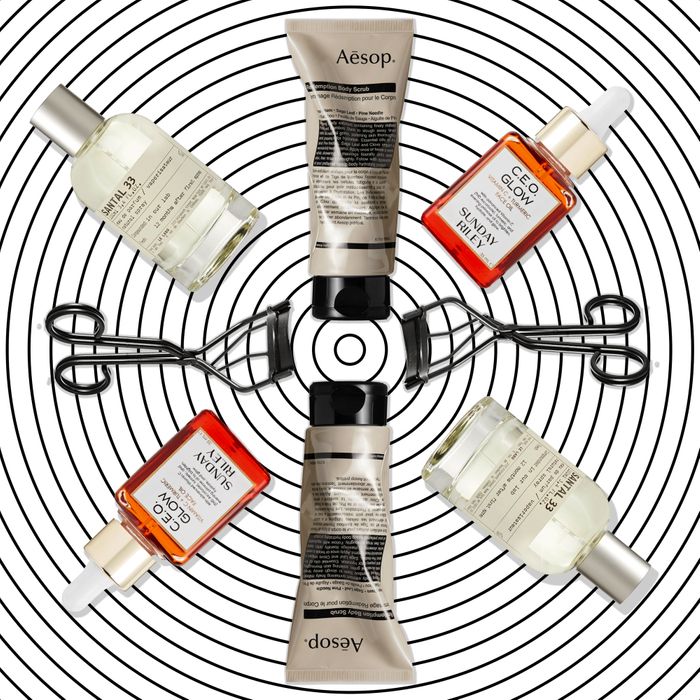 Photo: Courtesy of the Retailers
Today's summer sale is a nice adrenaline-pumping one because it's only 24 hours long. Net-a-Porter, purveyor of all things fancy, is currently having a flash beauty sale, which means for one day and one day only (that would be today, July 23, 2019), you can get 15 percent off luxury beauty products like Le Labo and La Mer by simply typing the code BEAUTY15 at checkout. (Note that there are a few exclusions, like Augustinus Bader and Vintner's Daughter).
Since time is of the essence, here are 9 excellent picks to drop into your cart, from the unofficial scent of New York to a cult-favorite cleansing balm.
You might smell Santal 33 all over New York City, but you'll almost never find it on sale — except today. As GQ designer Griffin Funk once tweeted, "At this point it's weird if someone doesn't smell like Le Labo Santal 33." Snatch it up now. —Kathleen Hou, beauty director
In a perfect world, I'd be at the David Mallett salon every two weeks getting my infiltrating grays quashed by colorist Maddison Cave. But since that will never happen, I rely heavily on this temporary solution. The can's nozzle makes aiming a breeze, and the Blonde shade comes pretty darn close to my own. Not blonde? Check out their four other shades: Black, Dark Brown, Medium Brown, and Platinum. —Jane Larkworthy, beauty editor-at-large
I love this lightweight face oil because it seals in all of your skin's dewiness without pushing things into greasy territory. The fast-absorbing blend of vitamin C, turmeric, and evening primrose quickly locks in moisture and adds an almost-instant glow while it's at it. And it smells like turmeric and citrus, so a quick sniff perks up my mood as much as a few drops perks up my skin. —Erica Smith, beauty writer
Hands down, lashes up, this is the best eyelash curler I've ever tried. It doesn't feel like a torture device — it won't pinch, crimp, or yank your eyelashes, but gently hug and lift them into a soft, uplifted Nike swoosh. —Kathleen Hou
There's something to be said for having an end-of-day ritual to ease you toward a good night's sleep. Mine always includes a bath, which is the closest I've come to meditating. As I practice working on my breathing, the divinely soothing scent of this lavender and vetiver cleansing gel certainly encourages those inhalations to be taken more slowly and deeply. —Jane Larkworthy
This finely milled body scrub turns into a creamy cloud upon contact. It actually makes me look forward to getting in the shower and manually sloughing off dead skin, dirt, and whatever else hangs out on my skin. In addition to leaving notoriously rough areas baby-soft, it makes my bathroom smells like it belongs in a fancy hotel thanks to a blend of fir and pine needle essential oils, sage leaf, and clove. —Erica Smith
If you'd like to buy into the legend of La Mer, now is a good time. I recently discovered that they have a new gel cream, which has a cooling texture and bouncy, non-oily feel that's perfect for summer. Amplified with sweat, it's been a great summer highlighter. —Kathleen Hou
If you're not a fan of eye makeup removers — maybe they tend to irritate your eye area, or maybe they're just a step you're too lazy to do — this gentle little disc might be for you. In just one wipe, the microfibers in this densely packed pad remove all traces of eye makeup (or any makeup, for that matter). Clean the pad every couple of days with soap or shampoo and add it to the laundry pile every few weeks. With good care, it lasts for 200 washes, and has extended the life of my own white pillowcases. —Jane Larkworthy
There's no time like the present (during the onslaught of summer sales), to finally try this cult-favorite cleanser. One tub of this buttery blend of plant oils goes a long way towards giving your face a deep clean without stripping, drying, stinging, or burning, especially when paired with the included 100-percent cotton muslin cloth. —Erica Smith
It has been updated throughout. If you buy something through our links, New York may earn an affiliate commission.