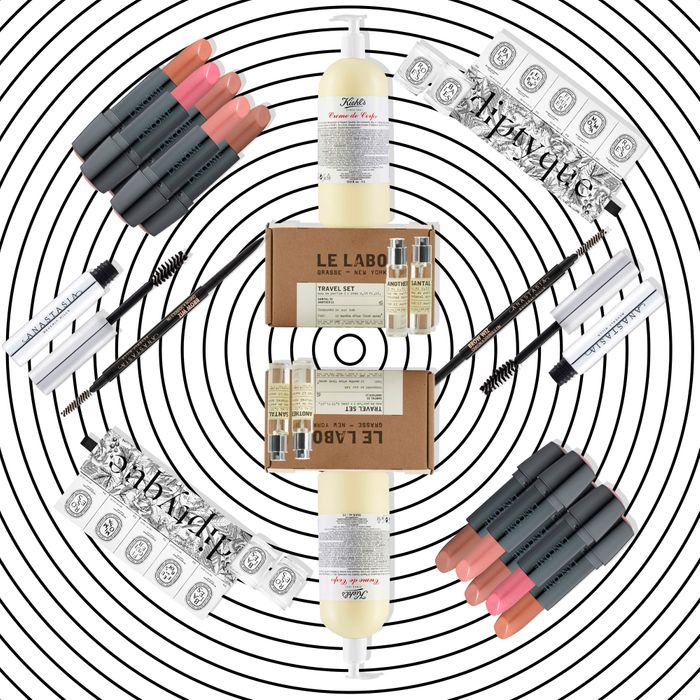 Photo: Courtesy of Nordstrom
Today marks the official start of Nordstrom's Anniversary Sale, also known as the biggest and best of all the retailer's sales. This means that a lot of very good beauty things (over 300 exclusives), from very good brands (La Mer, Le Labo, Diptyque), will have fewer dollar signs next to them for a limited time (from now until August 4).
This longer window of shopping time can be both a blessing and a curse, so to prevent you from succumbing to sale fatigue or running into any sad sold-out prompts next week, we went ahead and picked out a very manageable 12 of the best deals to try first. Clear your vanity/medicine cabinet/shower/purse/fanny pack accordingly. It starts at 12:30 p.m. EST.
A Five-Pack of Fancy Candles
Hands down, this is the best deal from the Nordstrom sale. Clocking in at around $10 a candle, this travel set of Diptyque best-sellers tends to get snapped up immediately, so let your itchy fingers click "Add to Cart" ASAP. Distribute them among your favorite friends, or be selfish and keep them all for yourself. —Kathleen Hou, Beauty Director
A Two-Pack of Fancy Fragrance
I pride myself on being one of Le Labo's first wearers of Santal 33 (a claim that, unfortunately, cannot be substantiated) and have shared its magic with more people than I can count, so any time I can nab an adorable travel-friendly mini of this sandalwood and fig scent, I do. Having it paired with AnOther 13, the jasmine, moss and ambrette seed scent they co-created with AnOther magazine's Jefferson Hack, is a bonus I can't pass up. —Jane Larkworthy, Beauty Editor-at-Large
An Entire Skin-care Routine for Under $100
If you're tired of waiting around for strangers to ask you "Why is your skin so good?" this 5-piece set should speed things up. It's got a Sunday Riley hit for every step in a well-rounded skincare routine, from the popular Ceramic Slip cleanser and C.E.O Brightening Serum, to everyone's favorite yeasty exfoliator, Good Genes. —Erica Smith, Beauty Writer
The Best Exfoliator for Silky Smooth Skin
I know everyone is very into P50, but I don't see the hype. It's not that I don't like it, it's just that I swear I can hear my pores weeping when I use it (along with my wallet). I personally prefer and recommend this liquid acid exfoliant from the cosmetics cop herself, Paula Begoun. I promise you that it works just as well to make your skin look unbelievably smooth. Also, it's very affordable, doesn't smell like hot NYC trash, and your pores won't be emo when you use it. —Kathleen Hou
A Classic Body Lotion
Oprah and Chloe Sevigny might be loyal lovers of this iconic body cream, but someone I have on speed dial is also a huge fan: my dog groomer, Colleen. Yes, during this sweltering heatwave, I'm thinking about what to get her for Christmas. And — what the heck — I'll throw in another two for myself. —Jane Larkworthy
A Beauty Editor's Favorite Brow Product
I've tried many a brow product, but I always come back to Brow Wiz in the end. It's hard to beat its precise tip and blendable shades, which make you look like you casually sprouted more perfectly groomed eyebrow hairs overnight. Since it's so sweaty out right now, you'll want to seal your daily masterpiece in place with the lightweight brow gel to match. —Erica Smith
A Great Deal on Fresh Products
I have one of Fresh's fancy ChapSticks in every single bag that I own. I keep having to replace them, not because I lose them but because my friends try them and never give them back. The Rose shade is a lovely raspberry pink that livens up the face, the ultimate "my lips but better." This kit includes one of those along with a bunch of other Fresh fan favorites, like the very gentle Soy Face Cleanser. —Kathleen Hou
Some No-Makeup Makeup Lip Color
I'm always searching for the next best lipstick shade that fulfills my Belle du Jour-meets-'70s fantasy look. I love the liberties Lancome takes with this group of nudes, which are kind of more like nude hybrids — nude rose, nude bronze, nude pink — but, frankly, isn't that how nudes are seen? Everyone has their own definition of what a nude lip is, so I'm psyched to explore five versions, anyway. —Jane Larkworthy
Deodorant for Sticky Days
The only thing worse than forgetting to apply deodorant as you walk out into the 90-percent humidity is having to reapply deodorant because you sweat it all off in the 90-percent humidity. This duo comes with a size for home and a mini size for your bag, so you're always covered in either case of emergency. And the key ingredient — eucalyptus — is both calming and antiseptic. —Erica Smith
Because You Always Need More Beauty Blenders
I've come to the realization that much like underwear, you should have days-of-the-week Beauty Blenders. If, like me, you use your Beauty Blender every day that ends in y, there is a good chance that you don't wash it often enough. Don't waste time imagining what's lurking on a wet makeup sponge in summer. Just stock up on more via this great deal (they normally cost $20 a piece). —Kathleen Hou
Some Fancy Shaving Cream
When it comes to a grooming routine, my husband is a man of simple tastes. He doesn't really wear cologne, and, since he shaves his head, hair products are non-starters. However, he is a shaving snob who knows from good lubricants and loves nothing more than a smooth, impressive glide, which is exactly what get from this jojoba-and-eucalyptus-based shaving cream. We might have to make room on the sink for this XL baby, but the decreased risk of "Argh!" sounds emanating from the bathroom on shaving days is well worth the accommodating. —Jane Larkworthy
Two Different Ways to Fight Dry Skin and Hair
Both your hair and your body can get dry and thirsty this time of year, and this OUAI power couple is a quick way to cut down on both flakes and time, while leaving a heavenly cloud of scent everywhere you go. The foaming body scrub takes care of everything from an itchy scalp all the way down to rough, sandal-scraped heels, while the rose oil adds a soft shine to everything from sun-damaged split ends down to the driest of knees. —Erica Smith
If you buy something through our links, New York may earn an affiliate commission.