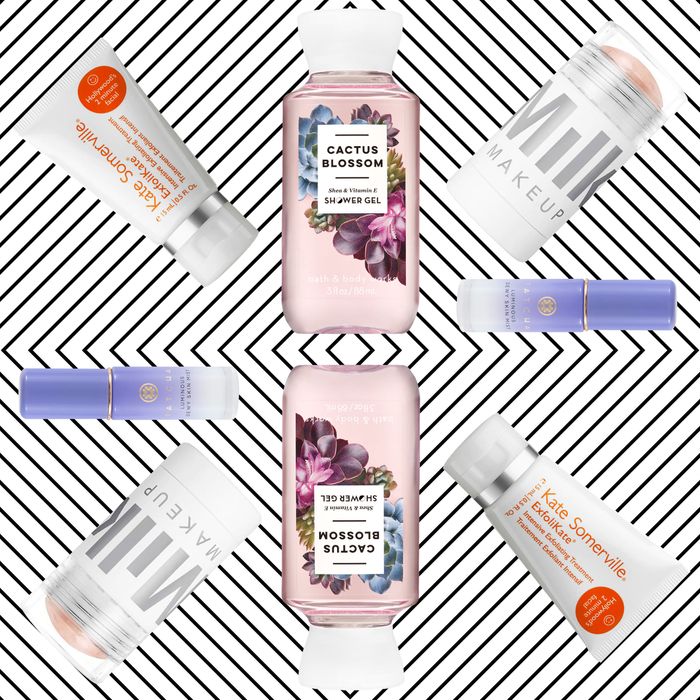 Photo: Courtesy of the retailers.
Want to feel big? Giant? On top of the world? Queen of your domain and the tri-city kingdom around it? You could … launch a successful business, win a tennis tournament, take mushrooms! OR — and this one's easiest, you're gonna love it — surround yourself with mini beauty products.
Nothing quenches my thirst for luxury goods like the cheapest possible luxury good. Why buy a $250 bottle of perfume that'll take eight years to get through, knowing that your cartoon-watching, commercial-brainwashed consumerist ass is going to want to replace it in a few months anyway? Sometimes it just makes more sense to buy in mini. I've never seen the bottom of a bottle of toner. (Maybe you have? What's it LIKE, down there?) I get bored of body washes about 57 percent through.
Based on years of user experience and hours of idle shopping, I've compiled my list of favorite mini luxuries. In a few decades' time, perhaps it will warrant a permanent basement exhibit in The Art Institute of Chicago! I'm dreaming small!
Now say it with me: May your attention span remain short, your tastes eccentric, and your budget modest. 
A Tiny, Fancy Body Wash
When I first heard my favorite local perfumer was making body washes, I was like, I must have one! When I heard they were $50 a bottle, I was like, Does it come in travel size? It does!!! Seven dollars, baby! My favorite is Rose Atlantic, which is lightly floral but balanced with salty ocean water. It's summery and light rather than red, red rose. By the time I use it up, it'll be September and I'll switch to woodsy Bowmakers or figgy Debaser.
A Miniature Minty Foot Cream
About once a year I remember I have feet and worry about what people think of them. Summertime. That's why I need the smallest tube of Aveda's minty and creamy foot relief, which I'll remember to massage into my sandpaper heels once or twice a week. Again, by the time it's used up, so am I. Wintertime.
A Very Small Tube of Exfoliator
This is a famous culty exfoliator that sheds a layer off your face like the skins of the snake of a boy I used to babysit for, who kept his python's exoskeletons on his bedroom shelves. Horror show. But it WORKS. (ExfoliKate, not taming a freaky kid.) And you only use it once a week, so go mini. I've had the big size before, and by the time I got to the near end of the tube, the texture had changed and the product was slightly drier.
A Bitty Pot of Finishing Powder
I've had a big pot of this finishing powder so long that when I looked up the link for this article the packaging had changed. I love the stuff. I also love this copywriting: "Blur the look of your skin's imperfections." If you say so! A super light layer goes a long way to achieve smooth, blurred skin ready for its close-up. You don't need the big boi. I dust it on if I anticipate being in the background of photos (weddings, tourist photos on the streets of New York, government surveillance) — turns out that's every day.
A Cute Little Skin Mister
Tatcha's products are beautiful, and the packaging is this thick, pearlescent plastic that I desire to stroke and pet. Therefore it is expensive. But almost everything comes in travel size, as if they know. The mini rice face polish: adorbs. The brand-new Indigo skin cream: something I'd like to try but am not ready to commit. But most of all, the dewy skin mist. You're supposed to use it as a spray moisturizer (cool), but I like to have it at my desk in case I'm going to dinner or a bank heist after work and need to liven up my sallow, fluorescent-ruined face. Mini or bust.
A Wee Bottle of Shower Gel
Like I said about getting sick of body washes 57 percent of the way through — I like to smell new smells. My moon's in Gemini, I change my mind a lot. It's been a while since I walked into Bath & Body Works, but I was craving a light and tropical summer body wash. Maybe I was craving nostalgia too, so what! Nevertheless! I scoped out the travel-sized situation, and my favorite scents are: Cactus Blossom (juicy, sweet, fruit with coconut, unabashedly summery), In the Stars (sessy sandalwood), and Rose (sugary, musky, barely floral). They crank up the fragrance and sweetness so high in these, I don't know how I could live with more.
A Bunch of Little Skin-Care Products
Can you imagine paying $350 for face serum?! I've long admired Dr. Barbara Sturm. Her glowing face and smiling eyes contrast with her terrifying clinical packaging and the way her name sounds like "stern." (Ask me about the 12 minutes I spent deep-diving into her influencer daughter's Instagram later!) And I've long, longed for her products. That anti-aging serum is legit — in two days I noticed my face tightened, glowed, and I'd started speaking with a German accent in my sleep. This kit gives you the Sturm greatest hits (the mega-moisturizing mask, the Glow Drops the Kardashians love), and while it's still expensive as shit, it isn't $350. MINI ME.
A Diminutive Hair Spray
Do people even use hair spray anymore? I use it once in a blue moon if I have Alfalfa baby hairs sticking straight up out of my forehead. Or if I've attempted "beach waves" or some shit. I like Sachajuan because it works, smells clean, and dries shiny. I don't need a Pringles-sized canister of hair spray in my life. Gimme mini.
A Stubby Stick of Highlighter
When Milk Makeup launched in 2016 they sent over a few products (BRAAAG) and I've used this highlighter several times a week for THREE YEARS. I swear it's going to outlive me. Or outsmart me, kill me, and take on my identity. It's creamy and effective without turning me into a human sequin. A little by the cheekbone, a swipe on the ol' brow bone, a dab under my left eye and left eye only after reading about how one should apply highlighter asymmetrically in order to appear naturally sunlit — as if hit from all angles by the sun goddess inside the Chipotle you're grabbing lunch in. Memento mori, memento mini.
If you buy something through our links, New York may earn an affiliate commission.