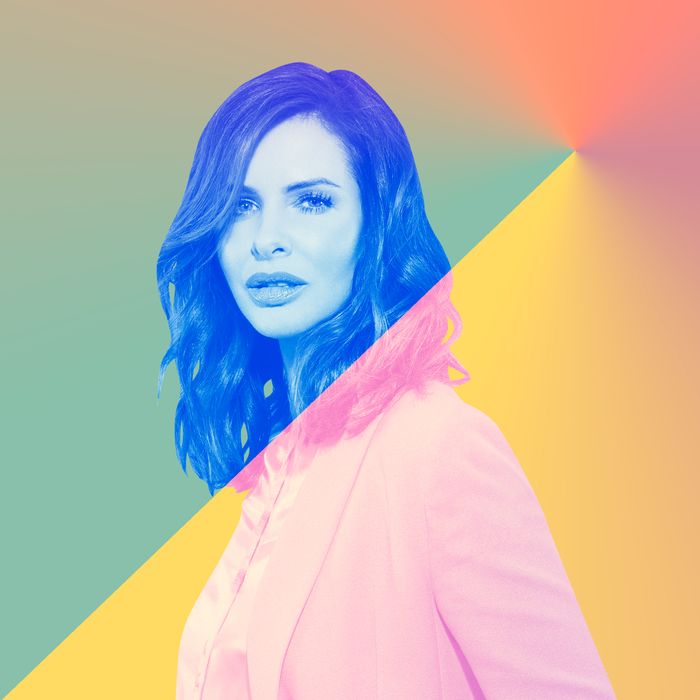 Photo: Courtesy of TRINNY LONDON
When Trinny Woodall found herself seated next to Leonard Lauder at Elizabeth Hurley's wedding to Arun Nayar in 2007, she did what any enterprising woman would do.
"I said, Leonard, I've got this great idea for a beauty brand," remembers Woodall, whose idea grew to become TRINNY LONDON, a line of small stackable pots filled with finger-friendly makeup. With fans like Anne Hathaway and Helen Mirren, it launches in the States both online and at the John Barrett Salon this month.
Weeks after that wedding, she showed up at Lauder's office with her stacks of tiny pots (then, tiny Muji jars) and gave it her Shark-Tank best.
"He said, Trinny, I think it's an incredible idea, but I never look at anything below $200 million. When you get to that number, come back and see me.'"
Woodall rose to the kind of fame that gets one invited to Elizabeth Hurley's wedding thanks to What Not to Wear, the British fashion advice TV show where she and co-host Susannah Constantine tackled every clothing issue.
Woodall seems to have been born with the what-to-wear gene. At boarding school, she would style her friends in clothing she'd brought back from Germany, where her parents lived at the time.
"My stuff was more interesting and exotic than what was at Marks & Spencer," Woodall remembers. "Making these girls over and seeing how happy it made them gave me a really nice fulfillment. I think the passion started there."
After trying her hand at finance, then marketing, Woodall eventually returned to her first love. She and Constantine landed a fashion advice column in the Daily Telegraph in 1994. That led to the TV show, which led to books and style adviser appearances on shows in other countries (including Oprah), but when Woodall turned 50 five years ago, the single mom looked at the tiny jars in which she had toted her own makeup for years and imagined other women wanting that kind of ease.
In October 2017, she launched TRINNY LONDON with 50 pots of foundation, eye shadow, lips, and blush. Today, there are 73 (eight of which yours truly has neatly towered in my own medicine cabinet). A fragrance is expected later this year, and a personalized skin-care plan is in the works for 2020.
As for Mr. Lauder, his $200 million number remains top of mind. She confidently states: "Give me a year and a half." Woodall spoke with the Cut about her Zara finds, the skin cleanser she wishes hadn't changed, and her favorite bird call.
What's your definition of beauty?
Kindness.
What do you think when you hear the term "clean beauty"?
No toxic chemicals.
Please fill in the blank: I think about ___ a lot.
Layering.
What discontinued product do you mourn?
The original Eve Lom Cleanser and Guerlain Midnight Secret when it was in that in blue glass bottle.
What is your morning beauty routine?
Evolve cleanser, Nannette de Gaspe Essence Noir Polish, Klairs Supple Preparation Toner, Skinceuticals C E Ferulic, Biologique Recherche Serum Colostrum, Dermalux Light Therapy LED mask, Nannette de Gaspe Baume Noir Face, TRINNY LONDON BFF Skin Perfecter SPF 30.
What's the last beauty product you use every night?
Dr. Julia Hunter Skin Therapy Night Regeneration cream and Vitamin A serum.
Who cuts your hair?
Greg at Josh Wood Atelier, London.
Who colors it?
Shannon at Nicola Clark for John Frieda.
Facialist?
Teresa Tarmey.
Dermatologist?
Dr. Sebagh. I get PRP treatments twice a year at his office with Diana.
What aspect of your beauty routine tends to be neglected?
My feet.
Mascara of choice:
My own, which comes out next year.
Fragrance of choice:
Guerlain Vetiver or neroli essential oil.
What beauty product do you think still needs to be invented?
An amazingly hydration moisturizer that doesn't look oily on the skin.
What was your first beauty product obsession?
Clinique 3-Step. I discovered it at Lord & Taylor during my first trip to New York when I was 15. I bought it with my own money, and it was very expensive for me, but that was the hook that got me into beauty.
Daily carry-all:
Zara cross body or Hermès Eugenie.
Work shoe of choice:
Stella McCartney stacked brogue.
Weekend shoe of choice:
Flat white trainer — Zara or Hogan.
What is your classic uniform?
Serena Bute silk trousers and matching shirt (I have seven!) and a great coat, or a white shirt and navy Piazza Sempione trousers.
What fashion item makes you scratch your head?
Shorts.
Whose eyeglass frames do you wear?
Have a Look, from Denmark.
What's the first thing you look at in the morning?
My sales on TRINNY LONDON.
Any hidden or secret talent or skill you possess?
I can whistle like a bird.
What was the most recent interesting conversation you had?
With my daughter, about women's equality.
What would the name of your autobiography be?
Be Your Best.
Who would star as you in the film adaptation?
Elizabeth Hurley.
Favorite smell?
Night jasmine in India.
Least favorite smell?
Smelly socks.
What do you think Pantone's color of 2020 should be?
Lemon yellow as it's such a happy color.
What was the biggest "No" you heard in your career?
My careers advice councilor at school who told me I could maybe be a secretary, but nothing more. At the time it made me feel stupid and put me off having a career.
What was the biggest "Yes"?
When a fund decided to invest in my business.
What is the biggest tip you can give that will change people's lives?
Ninety-nine percent of everything you worry about never happens. You don't know what's behind the closed door.
What do you foresee as the top beauty trends for the remainder of 2019?
Personalization personalization personalization.
What product in your domain is misunderstood and should be a best seller?
Lip Love, as it can be used on eyes, lips, and cheeks.
If you won the Power Ball tomorrow, what are the first five things you would do (after, of course, donating the majority of it to your top charities)?
Buy a home, set up a trust for my daughter Lyla, give some to my family, then give the rest away. I want to earn it, not just get it handed to me on a platter.
If you buy something through our links, New York may earn an affiliate commission.