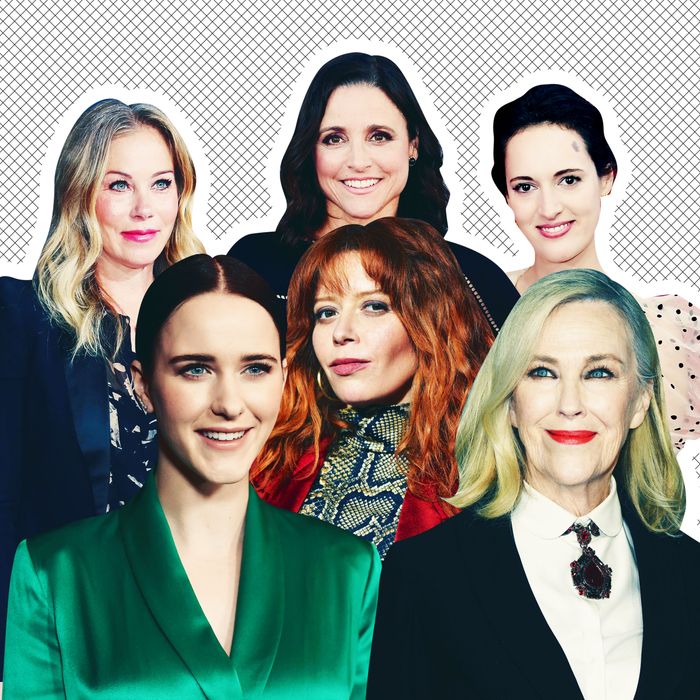 A new national emergency is hereby declared over one 2019 Primetime Emmy nominations category: Outstanding Lead Actress in a Comedy. Each woman named is so passionately followed, so intently memed, so ruthlessly beloved that you should remember where you are at this very moment because it's likely one of the last times before you or someone you know falls out with a family member. Pack a bag, get your affairs in order.
Here are the sides you will have to choose in this battle:
Christina Applegate in Dead to Me
Rachel Brosnahan in The Marvelous Mrs. Maisel
Julia Louis-Dreyfus in Veep
Natasha Lyonne in Russian Doll
Catherine O'Hara in Schitt's Creek
Phoebe Waller-Bridge in Fleabag
Will you stop speaking to your mother over her declaration for Catherine O'Hara as the batty Moira Rose, styled like a Patricia Field/Beetlejuice collab, when you yourself have chosen to hold out for Phoebe Waller-Bridge as the beautiful, self-destructive Fleabag? Years later, will she attempt to reconcile, to which you will agree only if she acknowledges that the Hot Priest kneeling scene is one of the most sexually and emotionally stirring moments on television?
Will you and your spouse argue at the dinner table over whether Christina Applegate's turn in Dead to Me was a television comeback that rivaled Julia Louis-Dreyfus's in Veep significantly enough to oust this perennial winner of the category? Will you gradually start sleeping in separate bedrooms until you find yourselves watching the eventual awards show from different homes, your children crying, "Why?"
Sitting at a bar, muttering to yourself about how Natasha Lyonne is way too good for Fred Armisen, will you come to blows with a fellow patron you overhear saying that Rachel Brosnahan deserves to win again after last year, smashing a bottle over their head while screaming, "MRS. MAISEL ISN'T EVEN FUNNY"?
Only time will tell.