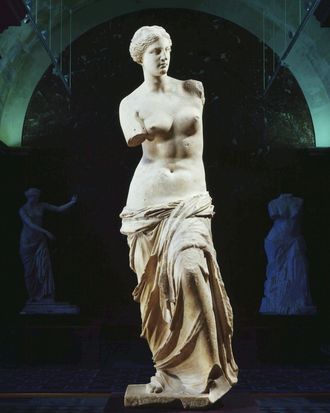 Photo: Gianni Dagli Orti/Shutterstock
If the Met can release a makeup collection, the Louvre says, Moi aussi. The French museum popularized by Beyoncé and Jay-Z has a new perfume collection inspired by eight of its most famous works of art.
French apothecary-style brand L'Officine Universelle Buly 1803 persuaded the Louvre to do its first beauty collaboration in its 226 years of history. Known for its unusual products, including scented rocks and beeswax dental floss scented with orange, ginger, and clove, Buly gave eight perfumers the freedom to create a scented masterpiece based on anything in the museum. No one chose a fire extinguisher, but they did make selections from one of the greatest collections of European art. Everything was up for grabs, except for the Mona Lisa, which, as Buly's co-founder Ramdane Touhami told the Telegraph, was "far too obvious."
The perfumers obviously have great taste, so two of the works they chose were featured prominently in the Carters' "Apeshit" video. If you've always wanted to smell like very fancy marble, the Venus de Milo scent as dreamed up by Jean-Christophe Hérault smells like "gentle white of jasmine, of neroli, of the matte and polished petals of magnolia, amber and sacred wood. Eternal, without past or present, the beauty of the marble goddess, elusive and notional, lifts up the soul with timeless bliss." If you want the perfect gift for your friend who was always carrying around art-history flash cards and muttering, "It's not Baroque," you can see all the perfumes now on Buly's website.
If you buy something through our links, New York may earn an affiliate commission.