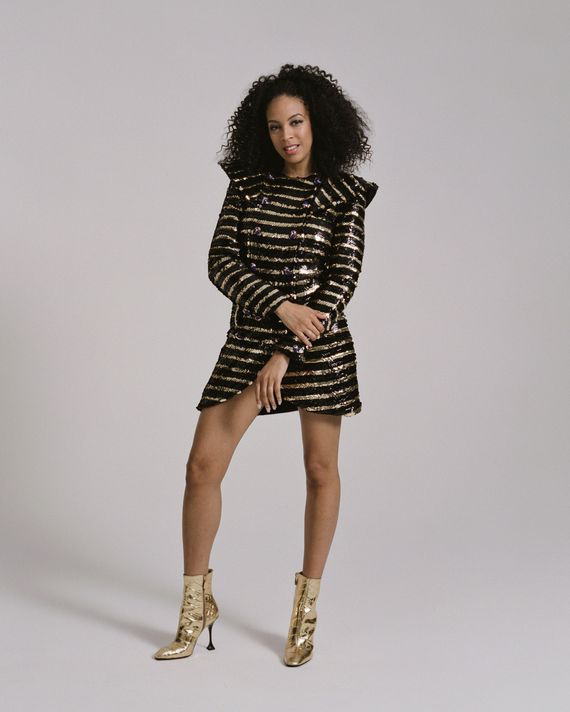 A good playlist is like a good meal: It needs a good mix of elements. At least that's how DJ KITTYSAYWORD sees it. Kitty, a.k.a. Catherine Capellán, is an assistant to legendary model Bethann Hardison by day and a DJ by night. And while she was intimidated by the music scene when she first started several years ago, she has found a formula that works for her.
"I compare it to a homemade meal. You have so many different things to satisfy different flavors and textures," she says. "That's how I think of the genres I play. A good party is one where you leave full and satisfied." She'll play anything that gets people to dance, because, as she says, "You're never really angry, dancing." We spoke with her about Stevie Wonder, Keyshia Cole, and lobster fried rice.
What is your most used emoji? 
It's the cat crying face. I use it as laughing, not as crying.
If you could spend three months anywhere, where would it be?
Africa. I'd probably hit up Morocco, Egypt, Nigeria (because they have an amazing music scene), Ghana, and South Africa.
If you had a superpower, what would it be?
To teleport. I've always wanted to travel, and it's a free way to travel. I would save so much money.
What is the best album ever made?
Songs in the Key of Life, by Stevie Wonder. I never get tired of it, and when I'm sad, I always listen to it.
Go-to karaoke song?
Anything Keyshia Cole. You get to belt it out.
Who is someone you think is cool?
I'm also a personal assistant, and I think my boss is supercool. Her name is Bethann Hardison. She used to have her own modeling agency, and she was a model as well. She's the bomb.
What fictional character would you want to hang out with?
Carmen Sandiego.
If you were a magazine, which magazine would you be? 
The Face. I always thought it was supercool and authentic. I think it captured a special moment, and I think I could relate to its grittiness.
Jeans or sweats?
I wanna say sweats, but jeans.
What is something your social-media followers don't know about you?
That I'm trying to make an effort to cook well and often. That was one of my goals this year. My mom is so gifted at cooking, and I need to live up to that.
What was the last website you looked at? 
The recipe for the salad I made last night.
If you could be outfitted by one designer for the rest of your life, who would it be?
Alaïa.
What do you eat for breakfast?
I used to make this green juice that was really simple — just kale, apple juice, ginger, and lemon. I'd also make this omelette with mushrooms, tomatoes, and cheese.
If you could eat only three things for the rest of your life, what would they be?
This is so easy. Mission Chinese has the best lobster fried rice, Ladurée has this dessert called the Saint Henri, and my mom's fried chicken.
If you were a color, what color would you be?
A firecracker red.
KITTYSAYWORD wears a Chanel dress and boots.