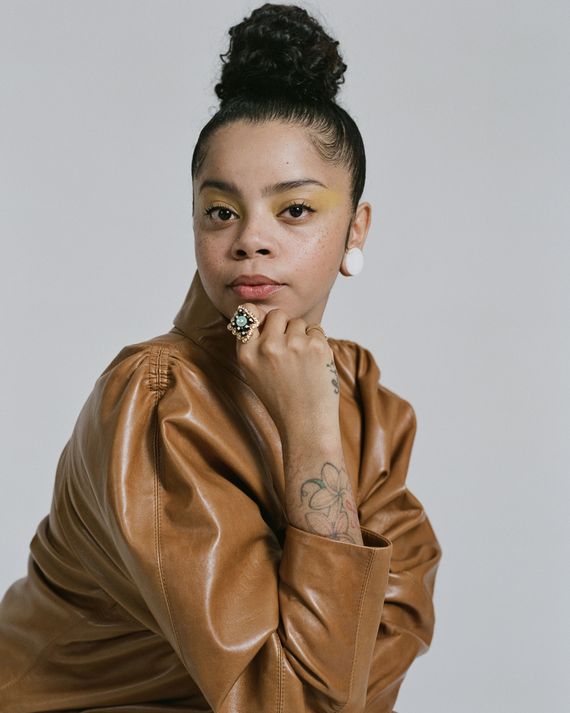 Illeisha Lussiano has always been a hairstylist at heart. As a kid, she spent so much time styling her friends' and her Barbies' hair that her parents bought her a mannequin head to practice on. She studied art, but has found her calling creating hair art on her Instagram account, The Hair Artisté. She's worked with editors like Elaine Welteroth, models heading to Paris fashion shows, and They Seem Cool alum Cynthia Cervantes Gumbs on her wedding hair. "With hair, I can see how I've uplifted the person. If I encounter them out and about in the streets, that's even better," she said. "I see a whole different person out in the world now." We spoke with her about her healing powers, Christmas, and Joanna Gaines's magazine.
What is your most-used emoji? 
The little glitter thing.
What's your favorite holiday?
Christmas because my grandpa worked every day of the year, but he always made it home for Christmas. I love my family. But I'm not 8 anymore — I'll leave cookies out for my mom but they're not for Santa.
If you could spend three months anywhere, where would it be?
Italy. I would go from the North all the way to the South and just bask in it.
What is the best album ever made?
Maxwell's Unplugged. I don't know if it's my favorite, but it's so relaxing and uplifting. My mom cleaned the house to it as a kid, and when I hear it now I get in a good mood.
Go-to karaoke song?
I've never actually done karaoke, but when I do, it'll be 'N Sync or Spice Girls or Lil Kim.
Who is someone you think is cool?
Shaniqwa Jarvis. She's magna cum laude of cool. She's patient, she's kind, she's so hard-working, and she's not afraid to use her voice and her power in a way that benefits others and herself.
Who is a fictional character that you'd want to hang out with?
Hello Kitty. She runs shit.
If you were a magazine, which magazine would you be? 
A brown version of Magnolia Journal by Joanna Gaines. A coastal living, city living magazine. It would be a hair/lifestyle/more hip-hop/R&B magazine that spins off of Magnolia. 
Jeans or sweats?
I should wear more jeans but I love sweatpants. If I wear sweatpants for too long I feel lazy, and sometimes I need to remind myself that I have a nice butt. So, a nice pair of jeans.
What is something that your social media followers don't know about you?
I've spent the last eight weeks building my very first salon.
What was the last website you looked at? 
Probably Ikea. I'm building the salon so I'm shopping at Ikea and Home Depot a lot.
If you could be outfitted by one designer for the rest of your life, who would it be?
Loro Piana.
What do you eat for breakfast?
I love an omelette. Sometimes it's spinach or sometimes it's my leftovers and I find out how to make it into a breakfast moment. I make it to go, like a little crepe, and walk out the door with it.
If you could only eat three things for the rest of your life, what would they be?
Pizza, my mom's spaghetti sauce, and french fries.
If you were a color what color would you be?
Plum, like a magenta-y plum.
Illeisha wears an Isabel Marant top, a Derek Lam tank top, Bottega Veneta skirt, Van Cleef & Arpels ring, and Sergio Rossi soes.