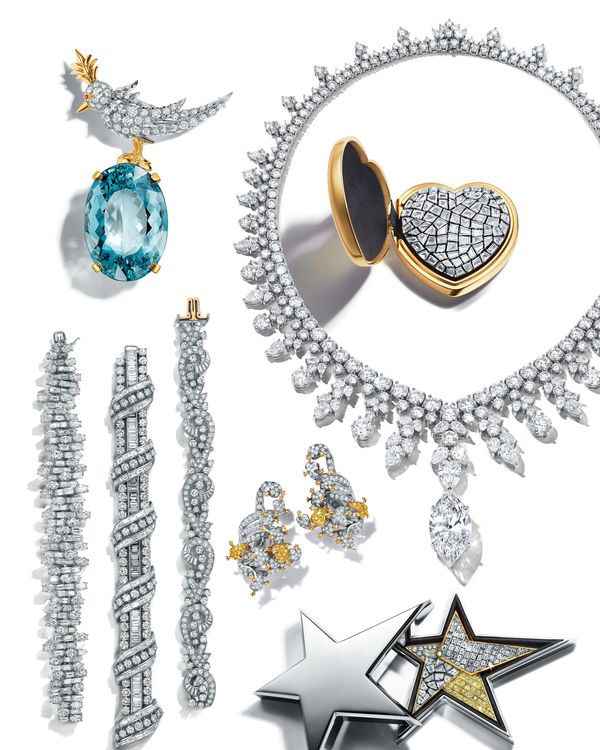 Photo: Courtesy of Tiffany & Co.
To celebrate 180 years since its founding, Tiffany & Co. is opening its first ever exhibition in Shanghai — a global capital with rich cultural heritage and exponentially growing international influence.
The exhibition, called "Vision & Virtuosity," showcases the most important objects from the brand's entire history. "There are many incredible objects in The Tiffany Archives that we draw inspiration from and we are constantly finding ways to reinvent and reinterpret them for our designs today," said Reed Krakoff, chief artistic officer at Tiffany & Co., in a statement. "With this exhibition, we honor the past and show how beauty and masterful craftsmanship are timeless and always relevant."
The exhibit takes you through six rooms (with a lot of jewelry to ogle over throughout). One is all about the iconic color used in the jewelry, branding, and its cultural impact. Another showcases the brand's influence in film, television, music, and literature. The third tells the story of the design evolution and the craftsmanship of Tiffany's through the history of their Blue Book catalog. There's also a room all about love (a.k.a. engagement rings). And, of course, you'll find a room dedicated to the film Breakfast at Tiffany's (it'll display the original script with Audrey Hepburn's personal annotations for you fans out there). Finally, the last room pays tribute to their diamonds through the ages, from the Gilded Age and Art Deco periods to contemporary designs.
"Vision & Virtuosity" opens to the public on September 23 and will run until November 10 at the Fosun Foundation Shanghai. Tickets will be available for purchase beginning in September, with all tickets sales benefiting the Fosun Foundation and its charitable programs.