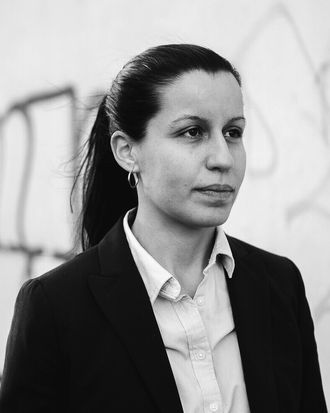 The battle over the outcome of last month's highly publicized Queens district attorney race between Tiffany Cabán and Melinda Katz is waging on.
The June 25 election originally ended in elation for progressives, since the 31-year-old Cabán was thought to be its winner in a huge, historic upset. As a young, queer Latina public defender, running on a radically progressive platform, Cabán's challenge to career politican Melinda Katz, who had the backing of the Democratic Party machine, was a long shot.
As the movement behind Cabán, which included community organizers, members of the Democratic Socialists of America, advocates for sex-workers' rights, and criminal-justice reformers, declared victory, with their candidate ahead by 1,100 votes, the moment was compared to Alexandria Ocasio-Cortez's stunning congressional primary win against Joe Crowley — until Katz quietly pulled ahead by just 20 votes, as last-minute affidavit and absentee ballots were counted.
Since then, the razor-thin margin between contenders has remained too close to call, after Katz's narrow comeback prompted a manual recount. Volunteers from both camps had been counting roughly 91,000 paper ballots for two weeks before they finished yesterday, after which Katz was still ahead by only 60 votes. The Board of Elections plans to certify the results next week, and Cabán plans to challenge them in court. "This race is not over. We are going to continue to fight to make sure every single valid vote is counted," she said yesterday.
"Now that every valid vote has been counted and recounted, the results confirm once again that the people of Queens have chosen Melinda Katz as the Democratic nominee for District Attorney," spokesperson Andrew Kirtzman said in a statement. But Gothamist reports that Cabán's lawyer, Jerry Goldfeder, plans to contest "dozens" of individual ballots. "People who didn't fill out their ballots absolutely precisely correctly, their votes were invalidated erroneously," Goldfeder said. "And people were told to go to the wrong polling sites. Registered voters. Democrats." Many of those ballots are affidavit ballots, which voters fill out when their name does not appear on the voter rolls at a polling site.
The Cabán campaign has a court date scheduled for Wednesday, August 6. Cabán told Gothamist that she is on unpaid leave from her public defender job, and is feeling the pressure of substantial legal fees related to the recount.
"There are some folks who think that me being really transparent and honest about my own personal situation is some sort of sign of weakness," Cabán said. "And I think that no, this is just reality. People like myself, working-class people who don't have a safety net … these are the very people that are lacking in representation in our elected spaces."