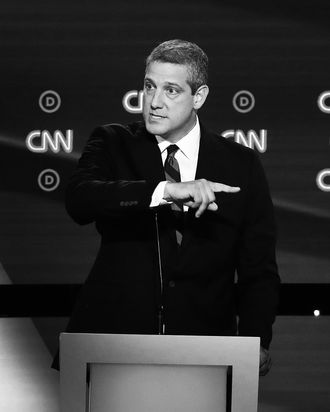 Who?
Photo: Justin Sullivan/Getty Images
On July 31, the day after the start of the second set of Democratic debates, a baffling image began making the rounds on Twitter in the form of a navy-blue campaign sticker inscribed with the words "YOU DON'T HAVE TO YELL." Underneath the all-caps message — which, ironically enough, is a shout in text form — is the name Tim Ryan, which I'm pretty sure belongs to one of the countless unidentifiable white men running for president.
The thing is, it'll be hard to ensure that I don't ever yell at this candidate, because I think I'd have an incredibly hard time recognizing him. I also don't know anything about this man's political platform. It feels telling, though, that his breakout "T-shirt moment" involved his delivering a comeback lacking in substance during a heated argument over Senator Bernie Sanders's proposal to fight climate change by eliminating the sale of new gas-powered cars by 2040 — a plan Ryan apparently finds unfeasible.
It is particularly instructive to compare Ryan's remark to his opponent Elizabeth Warren's standout quote of last night: "I don't understand why anybody goes to all the trouble of running for president of the United States just to talk about what we really can't do and shouldn't fight for."
Here's a good way to avoid being yelled at: Drop out of the presidential race and try to relax a just a little bit before the summer's over.