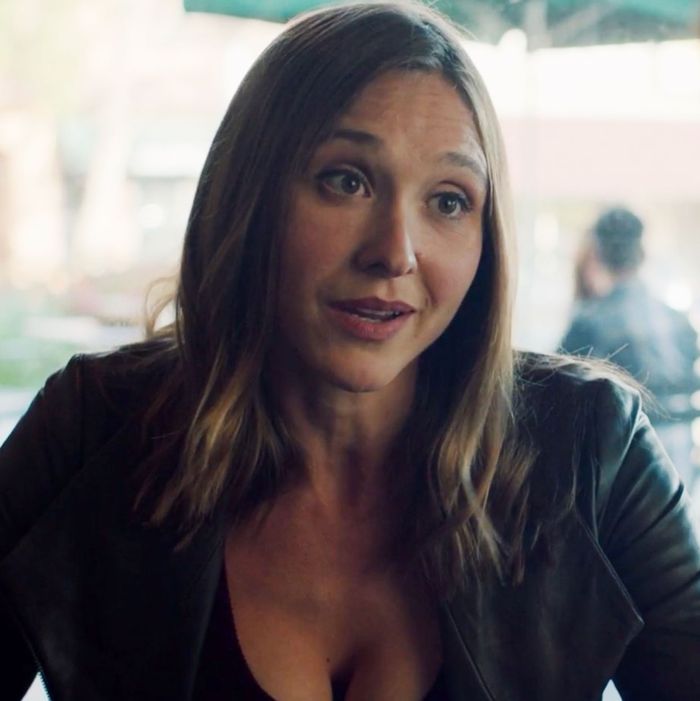 In season 2 of Big Little Lies, the Monterey Five have been joined by a breakout star — an iconic character who sows chaos wherever she goes, who powerfully commands every scene she's in, who ruthlessly and decisively pursues what she wants, with little regard for what the people around her think or feel. No, I'm not talking about Meryl Streep, or even her little fake teeth. I'm talking, of course, about Tori Bachman (played by Sarah Sokolovic), the wife of community-theater director and walking neck-beard Joseph Bachman, who cheated on her last season with Madeline Mackenzie (Reese Witherspoon).
Last season, Tori appeared only as the forgettable, spurned wife, frowning at Madeline in the hospital after she and Joseph were in a car accident together and later confronting Madeline at the school fund-raiser shortly before The Accident. "Is it you? Are you the woman Joseph is in love with?" she fumed, and I thought, Who is this again? and went back to feeling secondhand embarrassment about Ed singing Elvis Presley.
And that could have been it for Tori, the cuckquean for whom you're not meant to have that much sympathy, because she has mousy brown hair and is therefore probably a humorless nag. But no, Tori did not go gentle into that good night. Instead, she raged, barreling into season two with barely any scenes but with a sparkling new set of boobs and a thirst for revenge.
When Ed Mackenzie runs into her in the grocery store in episode one, he doesn't recognize her at first, and she politely explains that she got her boobs done to distract from her nose. "Now nobody notices it so much. Everybody notices these, though," she says, pointing to her chest. "And that pisses Joseph off." Ed is shaken by her forthrightness, as was I, and Tori exits the scene with a look full of pity that none of us are on her level yet.
We don't see Tori again until episode five, which is terrible. She appears at the very end, catching Ed off-guard at a bar. They do shots, and Tori strokes Ed's shoulder, and it seems like, yes, this is it, they're going to bang, but then the camera pans to the left and — what?! There's Joseph at a nearby table, watching them. Is Tori proposing a threesome? Is she just putting on a show to make Joseph jealous? Does Joseph want to watch? Unclear! It's Tori's world, and we're all just living in it.
Tori's real tour de force comes in the next episode, however, when she and Ed meet up at a Starbucks in the middle of the day to discuss whether they should hump. "Let me tell you what my shrink told me," Tori explains patiently (a mental-health advocate — we love). "It's not about inflicting payback on your cheating spouse; it's about getting a sense that you didn't just … take it."
She goes on to confess that she'd like both Joseph and Madeline to pay for what they did, but that she's also attracted to Ed. Also, she keeps "both a masturbation diary and bucket list" and tells him he made both. Ed looks unnerved. I gasped. Placebo's 2003 hit cover of "Running Up That Hill" plays quietly in the background. ("Is there so much hate for the ones we love? Tell me, we both matter, don't we? You, it's you and me. It's you and me won't be unhappy.")
"It's not just about me getting even, it's about me getting you. I want you."
While the other characters around her flail about impotently, Tori remains focused and single-minded. Her life blew up and she hauled herself out of the wreckage — one masturbation-journal entry and therapy session at a time — emerging bigger and better than before. A spurned queen, horny for revenge, who is crystal clear about what she wants and how she'll get it. I simply love her, and if by some terrible error of judgment there is a season three of Big Little Lies, I hope it will be all about her.
In the meantime, maybe she'll be able to cross "Bone Ed Mackenzie" off her bucket list on this week's finale.