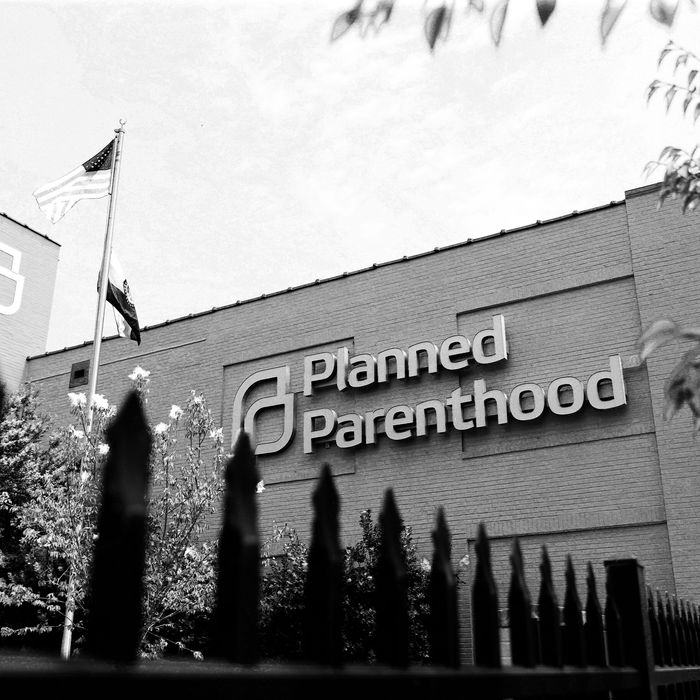 Planned Parenthood.
Photo: Jeff Roberson/AP/Shutterstock
Last week, the Trump administration got one step closer to its ultimate goal of banning all abortions when it announced that taxpayer-funded clinics must immediately stop referring patients for abortion services under a new restrictive rule. According to a new report from the Associated Press, though, the administration is now giving affected clinics more time to comply.
On July 15, the U.S. Department of Health and Human Services stated that it would immediately begin enforcing the "Protect Life Rule," which bans family planning clinics that receive taxpayer funds from referring patients for abortions. Were this rule to be fully enforced, the repercussions would be insidious. Under the policy, reproductive-health clinics cannot so much as tell their patients where they can access safe and legal abortion care, or else they could lose the funding that makes it possible for them to provide basic reproductive care to millions of people.
The rule, which reproductive-rights organizations have come to call the "domestic gag rule," would not only place onerous restrictions on reproductive health providers in the country — it would also kick Planned Parenthood out of Title X, a federal program that serves provides approximately 4 million women with basic reproductive health care. Every year, the organization receives around $60 million in Title X funding, which is notably prohibited from going toward abortion services. This rule would do more than just restrict abortion rights: It would result in millions of women, many of whom are low-income, losing access to basic reproductive health services, such as pap smears and STD testing.
On Saturday night, the administration walked back ever-so-slightly on its demand. In a notice sent to taxpayer funded clinics, the H.H.S. informed them that it "does not intend to bring enforcement actions" against those that are making "good-faith efforts to comply." The notice, obtained by AP, also contained a time table regarding the department's expectations of the clinics: They must show that they're enforcing most new requirements by mid-September, and they have until March of next year to stop sharing space with abortion providers.
Reproductive-rights organizations aren't satisfied. In a statement provided to the Cut, Jacqueline Ayers, vice president of public policy and government relations at PPFA, called the rule "illegal, unethical, [and] dangerous."
"As long as the Trump administration insists on implementing this rule it will continue to put the health of millions at risk," she said. "It's time for Congress to act, and save birth control, cancer screenings, and STD testing and treatment for the four million people who rely on our country's program for affordable birth control."
Furthermore, Planned Parenthood acting president Alexis McGill Johnson tweeted a link to a page on the organization's website about protecting Title X, alongside the promise that Planned Parenthood is "fighting back in every way [they] can."
This post has been updated.