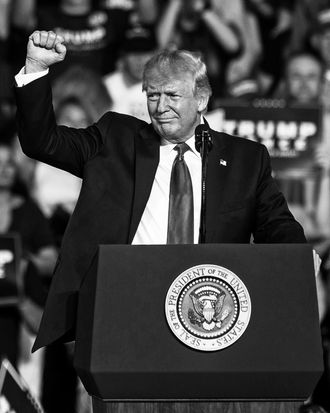 Donald Trump.
Photo: Zach Gibson/Getty Images
Not for a long while has President Trump been coy about his willingness to engage with white-supremacist ideology to appeal to his base. On Wednesday night, Trump stated his sympathies plainly, and it was no less shocking and appalling for it being far from the first time he's done so. The president told an enthusiastic crowd of supporters at a rally in North Carolina that the four progressive Democratic congresswomen, all women of color, he has become fond of antagonizing "fuel the rise of a dangerous, violent hard left." He continued, "That's why I said, 'Hey, if they don't like it, let them leave.' They don't love our country. I think in some cases, they hate our country."
With these remarks, Trump doubled down on racist comments he made on Twitter Sunday in which he also suggested that the congresswomen — Alexandria Ocasio-Cortez, Ayanna Pressley, Ilhan Omar, and Rashida Tlaib — hate America and should "go back and help fix the totally broken and crime infested places from which they came."
All the congresswomen were born in the United States with the exception of Omar, a refugee from Somalia and naturalized U.S. citizen, who seems to have particularly gotten under Trump's skin, and his supporters have noticed. While the president was singling out Omar for criticism in an extended rant, CNN reports that the crowd began chanting "Send her back! Send her back!" Trump did not interrupt or calm their calls for the deportation of a U.S. congresswoman. His slimeball smirks indicated that he was enjoying himself.
Trump went after the remaining congresswomen as well. CNN reports that he insisted on referring to Ocasio-Cortez as "Cortez" because "I don't have time to go with three different names." Of Pressley, Trump bizarrely said, "Is she related in any way to Elvis?"
Trump, in his typical fashion, branded himself a winner of this fight from the outset, despite the fact that the House voted 240-187 on Tuesday to condemn his tweets about the four congresswomen as "racist." According to the Washington Post, Trump boasted at the rally, "I think the story is that 187 Republicans voted in favor of Trump and four voted against. There is great unity in the Republican Party." (The vote occurred almost entirely down party lines, with just four Republicans and one Independent joining the Democrats in condemning Trump's remarks.)
The response on social media was swift. On Wednesday night Omar tweeted a few lines from Maya Angelou's poem "Still I Rise" and wrote in a separate tweet, "I am where I belong, at the people's house and you're just gonna have to deal!"
Several Democratic presidential nominees immediately condemned Trump's remarks, and Bernie Sanders rallied behind the congresswoman, tweeting, "#IStandWithIlhan."
Cardi B voiced her support for Omar, too.
Trump's racist bluster will only continue, will only become more outrageous and pointed, meanwhile his xenophobic policies speak for themselves.