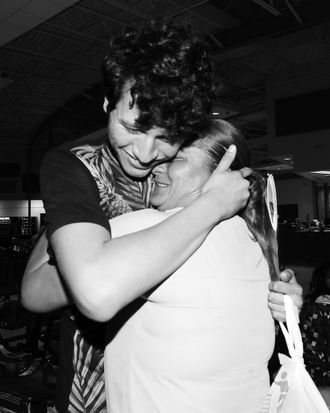 Francisco Galicia.
Photo: Delcia Lopez/AP
An 18-year-old U.S. citizen who was wrongfully held in immigration custody for nearly a month says that conditions in the detention center were so "inhumane" that he at one point considered self-deporting.
On June 27, Francisco Galicia, his 17-year-old brother, and three of their friends were driving from their small Texas hometown of Edinburgh to a soccer scouting event at Ranger College, where the brothers were hoping to get scholarships. According to the Dallas Morning News, though, they never made it there: On their way, they were stopped at a CBP checkpoint, where officers took the brothers and one of their friends into custody. Though Galicia showed the agents his Texas ID, Social Security card, and his birth certificate, he said, they doubted the legitimacy of the documents. As a result, they took him into custody — and then didn't release him for 23 days. (On July 20, Galicia was transferred to an ICE detention center, where he spent an additional three days.)
Since being released on July 23, Galicia has spoken out about the horrific conditions he endured while being detained: He says that he wasn't allowed to shower once during his stay; that he lost 26 pounds due to lack of food; that the holding area was so overcrowded that some men had to sleep on the bathroom floor; and that the building was infested with ticks.
"It was inhumane how they treated us," he told the Morning News the day after he was released. "It got to the point where I was ready to sign a deportation paper just to not be suffering there anymore. I just needed to get out of there."
He continued: "It's one thing to see these conditions on TV and in the news. It's another to go through them."
Meanwhile, his brother, who is not a U.S. citizen, had voluntarily deported himself back to Mexico so he could inform his mother what had happened. While being held, Galicia says was denied a phone call. He recalled the agents telling him, "You don't have rights to anything."
Following Galicia's release, ICE and CBP issued a joint statement about what they referred to as "conflicting reports" about Galicia's near-monthlong detention, claiming that "situations including conflicting reports from the individual and multiple birth certificates can, and should, take more time to verify."
The statement continues: "While we continue to research the facts of the situation, this individual has been released from ICE custody. Both CBP and ICE are committed to the fair treatment of migrants in our custody and continue to take appropriate steps to verify all facts of this situation."
But Galicia's attorney, Claudia Gallan, told the Morning News that under no circumstances should it have taken authorities nearly a month to verify his documents.
"It does not take that long," she said. "They have access to the system and they can check if he was born here or not. Despite having this visa, it does not take away from the fact that he was born in the United States."