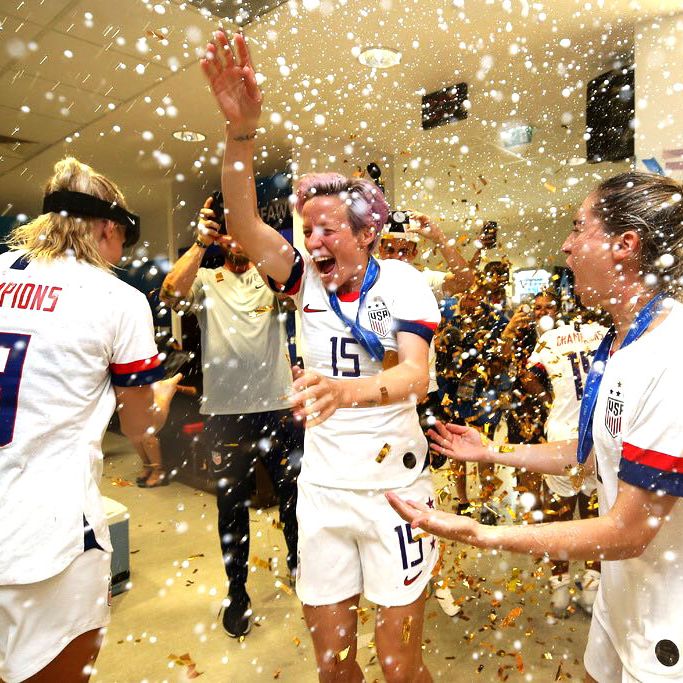 The joyous locker room celebrations.
Photo: U.S. Soccer WNT/Twitter
After facing criticism for their objectively tame goal celebrations throughout the 2019 World Cup, the U.S. women's national soccer team let unabashedly, euphorically loose after winning the whole damn thing — as they should.
While the first half of the final on Sunday left many viewers nervous, since neither the U.S. nor the Netherlands scored a single goal, the U.S. team scored two goals in the second half, marking their fourth world title after previous victories in 1991, 1999, and 2015. Even before the conclusion of the game, many U.S. players on the sideline could be seen tearing up and hugging, which turned into weeping and sobbing when the refs declared the U.S. women's team World Champions. The real celebration, however, came after the women left the field.
Though postgame partying started in the locker room, where forward Alex Morgan twerked and co-captain Megan Rapinoe made a glorious late entrance after doing pressers, the Champagne-popping and singing continued late in the night, which many players and the USWNT social media team closely documented on social media. The videos are, dare I say, as fun to watch as the team's actual skill on the field.
They're just perfect.
Goalkeeper Ashlyn Harris's many, many Instagram Stories of the partying, in particular, deserve a damn Oscar. (Watch closely to hear her yell, "I'm a drunk white girl on a bar, and I hate it," and, "You're fucking welcome for this content, bitch.")