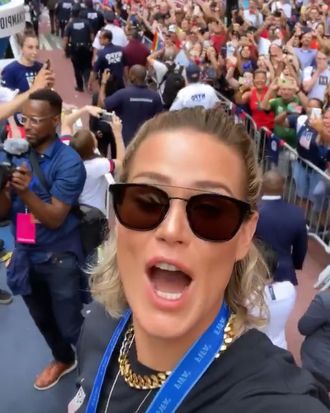 Ashlyn Harris, whose Instagram story has been unrivaled since the U.S. Women's National Soccer Team won the 2019 World Cup.
Photo: ashlynharris24/Instagram
Immediately after defeating the Netherlands in the 2019 Women's World Cup final, the U.S. Women's National Soccer Team started their glorious celebration, featuring touching displays of affection on the field, locker-room dancing, and a remarkable amount of confetti and Champagne. Then, the next day, they popped more Champagne on the plane home to the U.S. And then, they kept singing. And then, they had even more Champagne during their ticker-tape parade through Manhattan. In fact, to this very moment, I don't think they've fully stopped partying. (Okay, they did go on Good Morning America.) Truly, you love to see it.
Though their immediate post-win celebration in France certainly looked like a hell of a time, the past 24 hours in particular have appeared to be especially rowdy. Goalkeeper Ashlyn Harris posted approximately one million more videos of her yelling "bitch" to her Instagram story. Defender Crystal Dunn showed off her dancing skills by the pool. Midfielder Allie Long ate a piece of the team's gender-discrimination lawsuit.
Below, more highlights of their beautiful stateside bender.
They had a rooftop pool party
The team took the elevator up to the 18th floor at the James Hotel in SoHo, where they drank, danced, and laid back in inflatable donuts in a pool lounge all to themselves. According to Page Six, their parents (their coaches and executives) were not invited. Hell yeah.
Then they took the party to a yacht
Around dusk, the players headed to the Invictus, a $100 million yacht owned by billionaire Rick Caruso, from which they viewed the New York City skyline at night. Naturally, there was more Champagne.
Harris's Instagram story was exceptional throughout the ride, as it's been since the team won the Cup. Highlights included her whispering, "I don't belong here," followed by her reversing her opinion and saying, "I'm built for this life." At one point, she seemingly tried to hide somewhere on the yacht, presumably so she could stay there forever.
At the ticker-tape parade in Manhattan, Megan Rapinoe continued to be her goofy, lovable self
While clutching both her World Cup trophy and a bottle of Veuve during the New York City parade, the star midfielder asserted, "I deserve this," a move that was widely applauded on social media.
She also had the perfect entrance for the steps of the City Hall, where she yelled on live television, "New York City, you're the motherfucking best!"
Allie Long ate a page of the team's gender-discrimination lawsuit
Yet again, Harris captured a beautiful scene on her Instagram story: footage of her crumpling up a page of the U.S. women's team's equal-pay lawsuit against the sport's parent federation, which Long shoves in her mouth. I have to say, once again, hell yeah.
What's next on the team's agenda is unclear, but one thing is for certain: They're not heading to the White House.