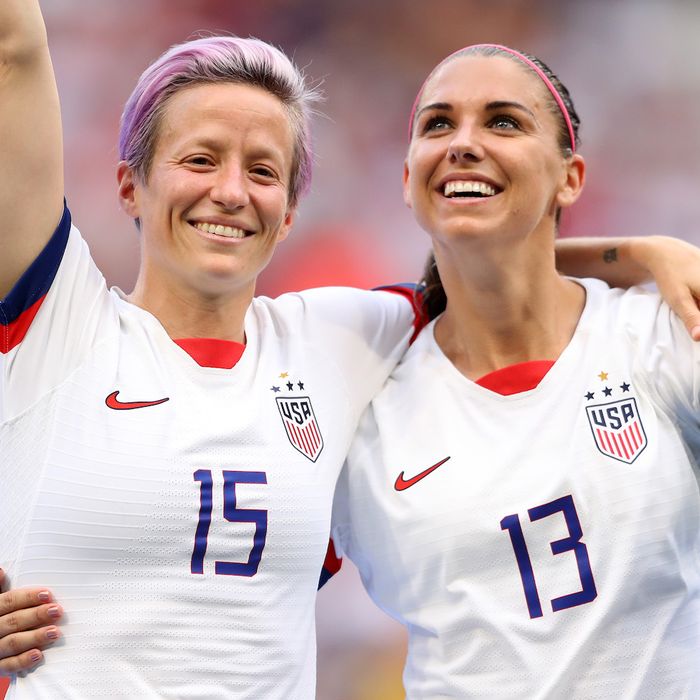 Photo: Richard Heathcote/Getty Images
Congrats to the United States women's soccer team for winning the 2019 Women's World Cup! Let's look at these photos of the U.S. team celebrating their victory. Can you feel the utter joy? Do you remember the last time you were this happy?
The glory!
After the first half of the game went scoreless, the U.S. earned two second-half goals, dominating the Netherlands team with a 2-0 win. The win marks the team's fourth world title after previous victories in 1991, 1999, and 2015. Co-captain and star midfielder Megan Rapinoe scored the first goal with a penalty kick in the 61st minute, and midfielder Rose Lavelle followed up with the second goal in the 69th. "It's surreal. I don't know how to feel. It's ridiculous," Rapinoe said after the win, according to the New York Times.
Rapinoe also won the FIFA Women's World Cup Golden Boot award after finishing the tournament with six goals and three assists. She also took home the Golden Ball, which is given to the top player.
Now that they've won, Rapinoe and her teammates can officially decline an invite from President Trump to visit the White House, which she said she would do if they won the championship. In a press conference on Saturday, July 6, Rapinoe reiterated her decision, Agence France-Presse reports. "I haven't spoken to everyone about it, obviously not myself, not Ali Krieger, and I suspect not many, if any, of the other players," she said.