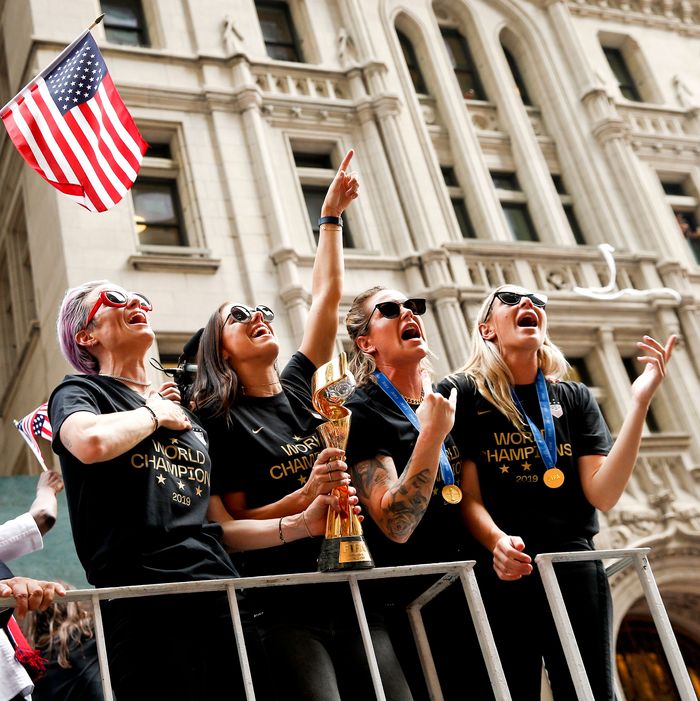 Photo: Brian Ach/WireImage
At 9:15 a.m. on Wednesday, the sidewalks along Broadway were clogged with cheering fans in soccer jerseys and face paint, families in matching red-white-and-blue outfits, and workers from nearby office buildings nursing coffees and sweating through their dress shirts. People blew air horns, and waved American flags, and chanted "USA!" and "Equal Pay!" High above their heads, in accordance with ticker-tape-parade tradition, people threw confetti and shredded paper out of their windows, some of it floating down delicately, serenely, like snow, some dropping in huge, heavy clumps.
All of this cheering and sweating and paper-hurling was for the U.S. Women's National Team, which was about to begin its second ticker-tape parade through their city, to celebrate its second-consecutive Women's World Cup Win.
How were so many people free to come watch a parade on a Wednesday morning? Some fans, like two middle-aged women named Kelly and Karla, took off work to come watch. Others, like the two women in shift dresses by Liberty Street, were hoping their bosses wouldn't notice their prolonged "coffee breaks." A family called the Kings, whose middle-school daughter Sydney plays soccer (left back, she told me) said they told their co-workers they'd be coming in late today. "We're excited to see Rapinoe!" Sydney's mom, Alison, a former soccer player herself, enthused.
Indeed, few figures have drawn more admiration and ire recently than Megan Rapinoe, the USWNT's outspoken, gay, purple-haired co-captain, who has helped lead the team's fight for pay equality and who told a reporter from Eight by Eight magazine earlier this year that she's "not going to the fucking White House" if the team won. The comment prompted a tweet from Trump himself, who wrote, "Megan should WIN first before she TALKS! Finish the job!" Rapinoe proceeded to do just that, scoring one of the USA's two points during the final against the Netherlands on Sunday.
Though the atmosphere on Wednesday was largely celebratory, at times the event seemed more like a political rally than a victory parade. "I'm sure the Cheeto isn't going to be happy that they're getting all of this attention," grumbled a woman named Kim, who was holding a cardboard sign that said "Equal Pay." One mother, lifting her third-grade daughter up to see the parade better, told me unprompted that she hoped the team would follow Rapinoe's lead and not go to the White House.
Across the street from Zuccotti Park, a handful of men waved oversize "Trump 2020" flags. One brandished a handmade cardboard sign that read "MEGAN RAPINOE AMERICA HATER." "Fuck Trump!" a woman shouted in response. When a "Make America Great Again" sign blew out of a man's hand, people nearby cheered. Periodically, the crowd would break into chants of "Equal Pay!"
Rapinoe herself, in a black "World Champions" shirt and red-rimmed sunglasses, seemed unfazed by the MAGA contingent when her float drove by, pointing at various signs and then resuming her dancing and cheering. (Once the president has angry-tweeted at you, it's hard to imagine getting too worked up over a couple of angry protesters.)
Still, despite the simmering political antagonism, the cultural significance of the day — of tens of thousands of people coming out to celebrate an outspoken, wildly talented group of female athletes — was hard to miss. "Years ago, female athletes were mocked, called not real women," one woman, a former college soccer goalie told me. "Now look at this."
Brian, whose 3-year-old daughter, Segovia, recently started playing soccer, said it was important for him to bring his daughter out to experience this parade.
"Hopefully, she'll remember this and be inspired to keep playing."