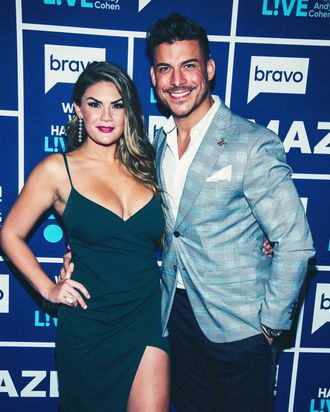 The happy couple.
Photo: Charles Sykes/Bravo/NBCU Photo Bank via Getty Images
This weekend, at a probably haunted castle in Kentucky, SUR bartender and No. 1 Guy in the Group Jason Cauchi, a.k.a. Jax Taylor, married SURver and gum attack survivor Brittany Cartwright in front of friends, family, God, and former 'N Sync star Lance Bass.
In a People EXCLUSIVE full of pictures we can't show you for legal reasons, but that you can enjoy here, we learned several facts about the beer cheese union:
• The wedding was fairy-tale themed. They didn't specify which fairy tale, but I guess whichever one involves the prince getting several nose jobs and then cheating on the princess with one of her colleagues in front of a sleeping 95-year-old woman. (The 95-year-old, it seems, was not in attendance.)
• The couple did not take photos before the ceremony; instead, they opted for Jax to see Brittany in her dress for the first time when she walked down the aisle. Brittany said that's the "sweetest part of a wedding," and Jax said that was "definitely a must" for him. This was a big deal, because two slides were devoted to it.
• Lance Bass officiated the ceremony. Originally, local pastor Ryan Dotson was supposed to officiate, but in June, several transphobic and homophobic comments he'd made on social media resurfaced on Twitter, and Dotson was dropped.
• Brittany had 12 bridesmaids, including every main Vanderpump cast member except for Lisa herself. Katie was the maid of honor. Jax had 13 groomsmen, and both Tom and Tom were best men.
• The groomsmen received sunglasses as gifts, which is kind of funny.
• Lisa Vanderpump, whose mother died on June 20, and was not expected to attend the ceremony, did show up.
• Dinner was "filet mignon, chicken cordon bleu, or exotic mushroom ravioli," and guests toasted the couple with blue Champagne, and then had food from Hooters while they danced. Beautiful.
Maybe this will be fine. In any case, I can't wait to watch the episode and see what trouble these two get up to.
UPDATE:
It has come to our attention, thanks to "Page Six", that the Cauchis apparently believe Lisa Vanderpump's husband, Ken Todd, with whom they have worked for years, is named Ken Vanderpump, as evidenced by the wedding's place cards.
What do you think, should Ken change his name?