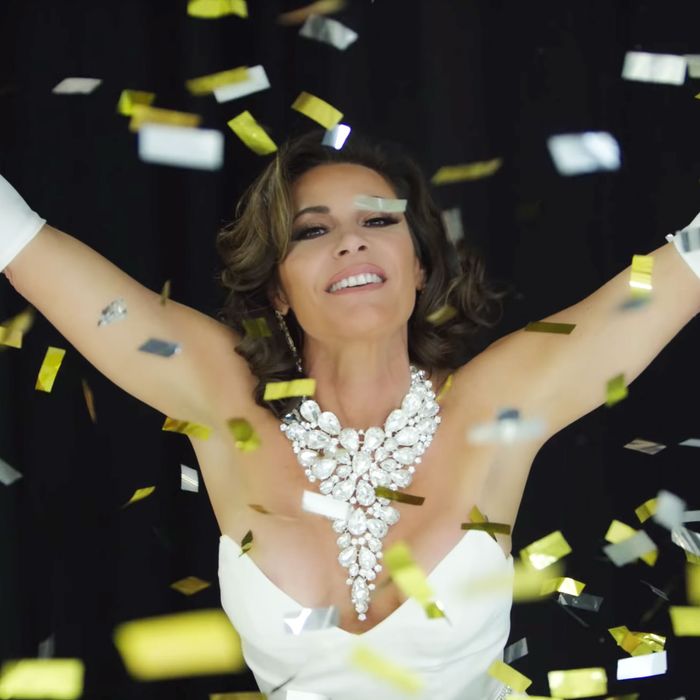 Luann de Lesseps in her new music video, "Feelin' Jovani."
Photo: Countess Luann/Youtube
For Bravo fans, it was the heckle heard round the world. In a dimly lit basement lounge, Real Housewives of New York star Countess Luann de Lesseps was making her cabaret debut. Wearing a sequin-coated jumpsuit from New York–based fashion brand Jovani, she purred in her signature raspy, low-register baritone.
Her fellow cast member, Dorinda Medley, sat in the audience, dressed in a sparkly Jovani jumpsuit of her own. Dorinda had introduced Luann to the brand — an eveningwear designer best known for frothy prom dresses and glittery gowns — a few days earlier, when she took Luann to the Garment District to find the perfect outfit for her new cabaret show, "Countess & Friends." But that was before Luann snubbed her, neglecting to invite her boyfriend to the opening night of her cabaret, and now, after a few drinks, Dorinda had had enough. In the middle of the performance, she began shouting at the stage, her words slurring: "Another Jovani outfit … Jovani! Jovani! Thank you, Jovani!"
The episode aired last August, and since then, the RHONY cast hasn't stopped talking about Jovani. The incident became both an instant meme and a major plot arc between Dorinda and Luann. The two women have been butting heads well into the current season, plugging for Jovani along the way. "The dresses fit me like they were made for me," Luann says in one scene. "It's unbelievable — I don't have to hem them, I don't have to alter them. I just put them on and they fit. It's like, meant to be."
Though Luann may have just found out about it, Jovani has been around for decades. For 40 years, this family-owned business has been a staple for high-school prom dresses, with more than 2,000 wholesale partners across the country.
"Dorinda has been a loyal client for years now," says Jovani co-owner Abraham Maslavi. "When we first allowed Housewives to film inside our store, we thought it was just a one-day thing. We didn't necessarily know how big this would become, and we definitely didn't know Dorinda would be screaming 'Jovani' during the cabaret show. Then it just kind of took off."
Jovani has become Luann's go-to designer for her "Countess & Friends" performances – and her cabaret tour is nothing to scoff at. Luann's publicist told us that "Countess & Friends" has already grossed $2.2 million this year. And last month, nearly a year after the drama originally aired on Bravo, Luann released a new single: "Feelin' Jovani," a throbbing dance track complete with the auto-tune and spoken-word lyrics that have become the Countess's trademark.
"I really wanted to change the narrative," Luann told the Cut. "When I come out onstage performing at my show, the fans are always shouting 'Jovani!' So I decided to take lemons and make lemonade. Or maybe lemon meringue."
With all the Jovani mentions on RHONY — so favorable, central to the characters, and crucial to the plot — it's hard to believe that it isn't sponsored product placement. But Bravo told the Cut it has no advertising arrangement with Jovani. Though the brand dresses Luann for most of her appearances and is the exclusive outfitter for her cabaret tour, she's not a paid spokesperson. She just likes the dresses.
Leeann Leahy, CEO of the advertising agency VIA, estimates that the value of RHONY's Jovani promotion is worth at least $2.5 million. "If I were the CEO of Jovani, I would be doing backflips," she says. "It's fascinating because in this particular instance, it's almost superseded product placement and Jovani has become a character in the story." Part of what makes it great advertising, Leahy says, is that the Housewives' affection for Jovani feels credible. "Consumers these days can spot the difference," says Leahy. "They can feel it. They say, 'Oh, so-and-so is just plugging this because they're paid.'"
And the RHONY exposure has been good for Jovani. Web traffic to Jovani's website spikes every time it's mentioned on the show, and a spokesperson for the brand says that the retailer has seen significant bumps in e-commerce sales as a result. The brand's wholesale partners have reported a wave of new customers seeking Jovani dresses, and Maslavi has noticed an uptick in foot traffic to Jovani's L.A. flagship. "In May, when Luann was doing shows in L.A., there were so many people flying in for the show, coming to our flagship store and purchasing dresses just to wear for the show," Maslavi told us.
Though Dorinda was the one to introduce the Houswives to Jovani, it seems now that she's moved on from the brand. On last night's season 11 reunion, Dorinda made it a point to let everyone know she was wearing Naeem Khan, and not Jovani, as she has worn in the past. She told Luann: "You can keep your $400 dresses … Keep 'em! … You wouldn't have anything to wear if it weren't for me."