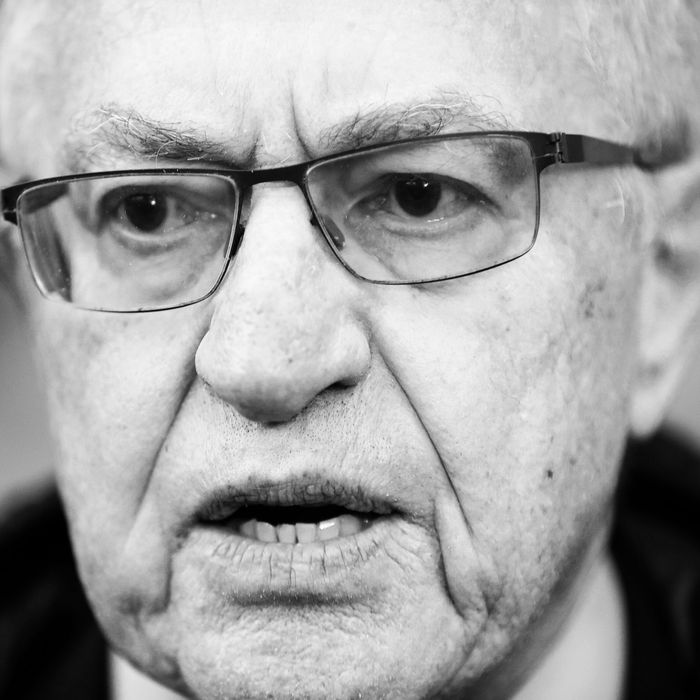 Photo: Frank Franklin II/AP/Shutterstock
No one has been hyping The New Yorker story on Alan Dershowitz more than Alan Dershowitz. The yearlong deep dive into Dershowitz's legal and academic career, TV punditry, and connection to Jeffrey Epstein dropped today, a week after Dershowitz himself wrote a Newsmax column, dramatically titled "J'accuse," about the impending release of the "hit piece." It was, he claimed, a "partisan effort by a giant of the media to stifle the marketplace of ideas" (prompting him also, unfortunately, to talk about his "perfect, perfect sex life").
It's no wonder that Dershowitz — who helped secure accused pedophile Jeffrey Epstein a wildly lenient sentence in 2008 for charges that included sex trafficking underage girls — didn't want a detailed profile pegged to their relationship, even if much of the information was already public. The New Yorker article, written by Connie Bruck, tracks Dershowitz's career of defending men accused of sexual abuse and misconduct, and how he's done so under the guise of his "civil libertarian" politics, using details from victims' personal lives as smears, even as he has argued that alleged perpetrators were being denied their right to privacy and freedom of speech. Bruck's reporting reveals how Dershowitz has used the same tactics against his own accusers — women recruited by Epstein, who allegedly told the women to have sex with Dershowitz. Bruck also sums up the supposed "bulletproof evidence" that Dershowitz says exonerates him, and she shows that it's much less compelling than the attorney has suggested.
Below, the biggest revelations on Dershowitz from The New Yorker:
Women in Dershowitz's law school classes say his lectures made them uncomfortable.
By the time he was teaching at Harvard Law School, Dershowitz had established himself as a defense attorney and lecturer with strong views on the prosecution of rape cases. Bruck reports that female students said his lectures could be "uncomfortable" because of the way he strenuously defended accused men over alleged victims. One former student from 1991 said that Dershowitz had "convoluted ways of thinking about how men could misinterpret lack of consent. And it wasn't relegated to when we were speaking about a rape case. Wherever we were on the syllabus, he would bring it up." Another said that Dershowitz talked so much about the case of William Kennedy Smith, a nephew of John F. Kennedy who had been accused of rape, that "a woman raised her hand and said, essentially, O.K., enough rape examples! There are women in this class who have been raped. Can we move on to something else?"
Dershowitz suggested that the age of consent should be 15 years old.
In a 1997 op-ed, Dershowitz argued against statutory-rape laws, writing that "there must be criminal sanctions against sex with very young children, but it is doubtful whether such sanctions should apply to teenagers above the age of puberty, since voluntary sex is so common in their age group." He suggested that 15 "was a reasonable age of consent, no matter how old the partner was," according to Bruck.
Dershowitz has a history of smearing victims …
Bruck unearths some of Dershowitz's writing that clearly engages in victim blaming, long before he was disparaging the credibility of his and Epstein's accusers. Of the 18-year-old who accused Mike Tyson of rape in 1992, Dershowitz, Tyson's defending counsel, wrote that she "was hardly the naive virgin she pretended to be," calling her "a sexually active young woman who hung out in nightclubs."
When he began helping attorneys hired by Jeffrey Epstein, Dershowitz assailed the character of the dozens of young women who accused Epstein of abuse. Bruck reports he "presented a selection of posts from MySpace, in which the girls recounted experiences with alcohol or marijuana … as evidence that the girls were 'not to be believed.'" He was especially focused on an accuser identified as "A.H.," who said Epstein had promised to help her get into NYU, and included snapshots from her social media accounts. "She, herself, has chosen to go by the nickname of 'pimp juice' and the site goes on to detail, including photos, her apparent fascination with marijuana," Dershowitz wrote in a letter to detectives, which he claims someone else composed.
… including his own accusers.
Dershowitz used the same tactics to attempt to discredit his own accusers once they came forward. There are currently two women who say that, at the direction of Epstein, they were required to have sex with Dershowitz at Epstein's properties in Florida, New York, and elsewhere.
Virginia Roberts Giuffre says that Epstein had trafficked her to powerful friends including Dershowitz, whom she claims she had sex with at least six times. After her allegations went public in 2011, Dershowitz leveled a slew of insults against Giuffre, who was 17 when she met Epstein, including that she is a "serial liar," a "prostitute," and a "bad mother." Giuffre has sued Dershowitz for defamation.
The second woman, Sarah Ransome, names Dershowitz as one of the friends of Epstein's she was "directed" to have sex with. In the press, Dershowitz called her a "crazy woman."
Dershowitz's own defense isn't airtight.
Bruck's piece also pokes holes in the "evidence" Dershowitz has used to prove that it would have been impossible for him to have met Giuffre at Epstein's Manhattan townhouse or anywhere else. The travel records he provided (which she was not allowed to copy) included documentation of credit-card bills, public appearances, or phone calls to back up his whereabouts, but "some of the dates were supported by only a handwritten datebook entry ("New York"), or by a telephone call from a landline, which could have been made by anyone at the address." And, Bruck notes, Dershowitz "lived in New York from September, 2000, to June, 2001, when Giuffre was often with Epstein at his mansion. His schedule contains notations about meetings with 'Jeffrey.'" Bruck asked to see supporting documentation from a private security firm, hired by Dershowitz, that claimed it found "no evidence" of Giuffre's allegations; Bruck was never given those documents.