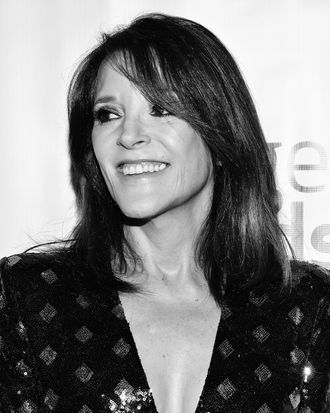 Marianne Williamson.
Photo: Araya Diaz/Getty Images
When Marianne Williamson announced her bid for president in late January, her campaign was largely ignored by pundits and the press. This was, in a way, understandable: The 2020 presidential race is already ridiculously crowded, and because Williamson is better known as a spiritual adviser than a politician, many aren't convinced that the outsider is the best candidate to defeat Trump. And yet, she has achieved a not-insignificant modicum of success so far; most significantly, she has qualified for at least two Democratic debates. During the inaugural debate on June 28, speaking in an indecipherable accent, Williamson railed against our country's "sickness-care system" and promised to "harness love" to defeat Trump. And, on July 30, Williamson will take to the stage yet again.
Below, here's everything to know about the New Age leader, self-described "bitch for God," and 2020 candidate.
Who exactly is Marianne Williamson?
Williamson is a 67-year-old "thought leader" who has been a spiritual adviser to Cher, an officiant at one of Elizabeth Taylor's weddings, and a confidant of Oprah Winfrey. She has also written four New York Times best-selling books, including A Return to Love and Illuminata. And, though she dislikes being described as a spiritual "guru," she decidedly is.
As evidenced by her decades-long career, Williamson probably wouldn't describe herself as a politician. However, this isn't the first time Williamson has run for office. In 2014, she launched an unsuccessful bid for then-soon-to-retire Representative Henry Waxman's seat in Southern California — a campaign that garnered the support of Kim Kardashian West, Eva Longoria, and Nicole Richie, among many other celebs. Hell, Alannis Morissette wrote and recorded a song for Williamson's campaign, titled, "Today."
What is her platform?
Williamson certainly has some slightly unusual proposals addressing some of the biggest issues plaguing America — the climate crisis, mass incarceration, our broken health-care system — but she has thrown her support behind most of the big progressive issues. Were she to become president, she vows to protect reproductive rights and LGBTQ rights. She wants universal basic income. She thinks college should be free, and that student debt should be forgiven. She supports reparations, and understands our criminal-justice system is, in actuality, "terribly unjust." Also, Medicare-for-all: She wants that, too. (During the 2016 presidential election, she wrote an open letter to Hillary Clinton, urging her to stop "cozying up" to "the plutocracy now ruining this country"; Williamson endorsed Bernie Sanders.)
At its core, Williamson's campaign is built around a message of love, which is reflected in the way she argues her position on key issues. On the page of her website about her commitment to immigrants' rights, for example, she writes, "I don't know any progressive who is arguing for open borders, but we are arguing for open hearts." (In mid-July, Williamson came under fire for calling mandatory vaccines "Orwellian," but she apologized and asserted that she "misspoke" just one day later. "I am sorry that I made comments which sounded as though I question the validity of life-saving vaccines," she tweeted.)
While Williamson hasn't announced detailed policies she'd enact as president, as have other candidates like Elizabeth Warren and Kamala Harris, she has proposed creating new governmental departments: the Department of Childhood and Youth, which would focus on "chronic trauma" experienced by children, and the Department of Peace, which would help "[dismantle] our systemically entrenched perpetuation of violence."
Should we take her seriously?
Given Williamson is, for the second time, preparing to debate against career politicians like Elizabeth Warren and Bernie Sanders, don't completely write her off yet. Unfortunately, we still have… more than a year of this.
This post has been updated.