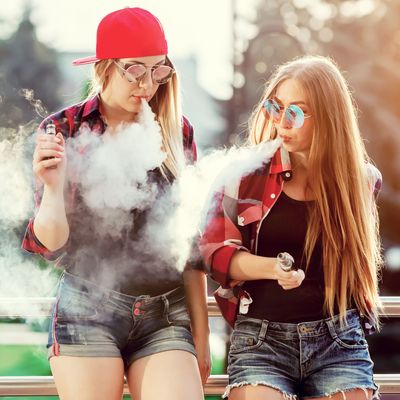 Vape responsibly.
Photo: licsiren/Getty Images/iStockphoto
How do you do, fellow kids? It is me, a Young(-ish, kind of) Person, here with a gentle reminder that vaping may in fact be very dangerous, we just don't know yet. True, it makes you feel and look like a dragon, and that is boss. But it may also cause serious lung damage, at least if a spate of hospitalizations in Wisconsin offer any indication.
The Milwaukee Journal Sentinel reports that, within the span of a month, eight teens have presented at the Children's Hospital of Wisconsin with the same set of symptoms: extreme difficulty breathing, severe coughing, and fatigue. In some cases, the patients also reported vomiting and diarrhea, but all of them admitted to vaping THC and/or nicotine.
"They come in not breathing well and look very sick," Louella Amos, a pediatric pulmonologist with the Children's Hospital, told the Journal Sentinel. The lung damage has progressed "to the point where they can't breathe," even though the illness appeared to come on suddenly, Amos added.
Meanwhile, a 26-year-old Wisconsin man is in critical condition after vaping with a THC cartridge he bought "on the street," per the Journal Sentinel. He was reportedly unable to breathe on his own, and in the hospital where he is being treated, he's one of four young people with apparent "vaping-related injuries."
"We have a common theme of vaping," Jonathan Meiman, chief medical officer with the Wisconsin Department of Health Services, told the Journal Sentinel. "We do not know of one product."
Vaping is a relatively new phenomenon, too new for us to know much about its long-term health implications. Still, the American Lung Association is pretty certain that vapes wreak significant havoc on human organs. Harvard researchers have identified a common, and troubling, component in vape liquid: diacetyl, a chemical believed to cause "Popcorn Lung," a condition that sounds fun and whimsical but is actually a form of bronchitis. They also believe that flavoring agents could be linked to lung diseases like COPD and asthma. And if the disease potential doesn't move you, how about this: sometimes vapes explode!
Still, Juul reps have reportedly been visiting high-school classrooms and assuring their teen customers that the product — which the company is trying to market exclusively to adults these days, now that an estimated 3 million-plus teens vape — is "totally safe." Keep in mind, kids: Big Vape just wants your money. It's a trap!